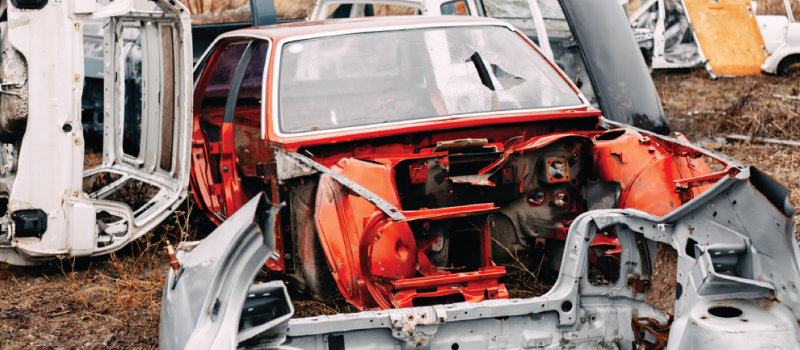 How to scrap a car
23rd Apr, 2019
Even the most faithful and reliable of cars reach the end of their useful lives eventually. When that day comes, ideally you'll want to dispose of it in the safest, most efficient and environmentally friendly way possible – and of course, while getting the maximum amount of cash possible for your scrap car!
Happily, living in the digital age means that today it's easier than ever to scrap your car. Paperwork can be sent and received almost instantly, and certain physical elements have been phased out (such as tax discs). That said, it can still be easy to miss a few important steps, which can have potentially very expensive consequences. To help you avoid that, here's a handy comprehensive guide on exactly how to scrap your car.
Make sure you use an Authorised Treatment Facility
Let's start with the most important advice! When you scrap your car, it's vital to make sure you use an Authorised Treatment Facility. Using an ATF is important for a broad range of reasons. For example, they'll ensure that your car is scrapped in an environmentally-friendly way, and you can always count on them to rigorously stick to the law as they process your car. This includes sending you an all-important Certificate of Destruction, which we'll come onto in a moment.
The good news is that it shouldn't be difficult to find your nearest ATF. All legally operating scrap yards or breakers yards have earned the title of Authorised Treatment Facility, which means they're licenced and monitored by the Environment Agency to ensure the highest standards of hygiene, safety and professionalism. Records of their status are also very public, so it's very easy to check.
How can you avoid unscrupulous dealers?
Unfortunately, there are still some dealers who operate outside of the law to varying degrees, but thankfully it's not too hard to protect yourself against them. You can use the following link to check if an individual scrap car dealer is an ATF.
There's also another easy way to tell; according to the Scrap Metal Dealers Act of 2013, all scrap car dealers must take identification and proof of address when they process your car, and all financial transactions must be done by bank transfer. If a dealer doesn't seem too bothered about paying you in cash – or worse, insists on it – and doesn't take any ID for their records, definitely steer clear.
Are you keeping any parts from your car?
This is one of the first decisions you'll have to make, as it affects which key steps you'll have to take to successfully scrap your car. While it won't be applicable for most car owners, there could be several reasons why you'd theoretically want to keep parts from your car.

You might want to keep a personalised reg plate, or certain parts that have sentimental value, or even components that have proven resale value. (Just be aware that taking parts off will affect the price you get for your scrap car!)
How to scrap your car without keeping any parts
This will probably be your default option, and it's the best one for those without the mechanical knowledge, time or inclination to take their end-of-life vehicle apart. It's straightforward too, and requires the minimum amount of paperwork.
1.  Apply to take the registration number off the car (if you want to keep it)
If you have a private or personalised number plate, you may wish to apply to remove it so that you can continue using it in your next car. The good news is that the process to do this is quite simple – just follow this link about private number plates on the government's website. If you don't want to, you can just skip this step.
2. Scrap your car at an Authorised Treatment Facility
You could do this by individually finding a suitable ATF and contacting them directly. Alternatively, you can use a service like ours here at Scrap Car Network, in which we act on your behalf to find the nearest scrap yard with the very best price. The majority of scrap yards provide this service free of charge (we certainly do!).
3. Hand over your log book (V5C) but keep the yellow slip
If you're not sure what your log book is, it's not technically a book as such – it's actually a small slip of paper that proves who's the registered keeper of the vehicle. You'll need to hand this over to whoever collects your car, but make sure you tear off and keep the yellow 'Sell, transfer or part-exchange of your vehicle to the motor trade' section.
Can't find your V5C? Don't panic, it's a common problem! Though it's preferable to have it with you, you'll be happy to know it's possible to scrap your vehicle without it, certainly when you use our service here at Scrap Car Network. You can find more details on our dedicated post: what happens if you've lost your V5C?
4. Let the DVLA know
This is one of the most important steps in the process, and it's one that's easily forgotten. Unfortunately, this can be an expensive mistake; unless the DVLA know you've transferred your car, then as far as they're concerned, legally you're still the one responsible for it. In the best case scenario, this can mean an unwelcome £80 vehicle tax bill through the door, long after your car has been scrapped!

To avoid this, it's a good idea to contact them independently, just to make absolutely certain. That way, not only are you legally protected, but you could even be entitled to a tax refund on the unused tax on your car. It's definitely worth double-checking!
5. Make sure you get a Certificate of Destruction
Closely related to our point above, a Certificate of Destruction is important because it's a legally binding document that proves your car has been disposed of, and frees you from legal responsibility for it. It's issued by the DVLA, usually to your ATF, who will then forward it onto you.
Unscrupulous dealers will sometimes attempt to issue fraudulent imitations of these documents, which are obviously not legally binding and can leave you vulnerable to fines or litigation. Take a careful look at yours when you receive it; it has to be a 'Certificate of Destruction' exactly, not a Document of Destruction or Certification of Disposal, or similarly tricky wordings. Don't get caught out!
How to scrap a car when keeping parts from it
Scrapping a car while keeping parts from it is not hugely dissimilar to the process we've just described above, but there are one or two extra steps and bits of information you'll need to be aware of.
1. Inform the DVLA your car will be off the road
With very few exceptions, it's not safe to keep driving your car once you've started removing parts from it. And unless you want to keep paying tax and insurance on your car after you've stopped driving it, you'll need to let the DVLA know it's off the road.
To have your car legally declared off-road, you'll need a SORN, otherwise known as a Statutory Off-Road Notice. For the SORN to be valid, your car needs to be actually off the road. That means it needs to be in your garage, on a drive or other private land. If it's parked in the street, it doesn't count, and you could be fined!
2. Apply to take the registration plate off if you want to keep it
We've covered this above – again, you'll just need to follow the relevant link to the government website, which will take you step-by-step through the application process. When this is completed successfully, you'll eventually be able to use your personalised reg plate on your new motor.
3. Remove the parts you want from your car
Once you've got your SORN in hand, then you can feel free to crack on with removing the parts you want. Personally at Scrap Car Network, we wouldn't recommend doing this unless you know exactly what you're doing. Attempting to remove an engine without the proper tools or expertise can be difficult, costly or even dangerous!
4. When you're done, scrap your car at an ATF
Again, this is broadly the same process as we outlined above. One important thing to note is that as we touched on above, removing parts can have an impact on the price you get for your scrap car. Removing any particularly large or vital parts like the engine, the gearbox or the wheels can end up being significantly costly.
Taking the engine, for example, could take as much as £67 off the car's total value. (For more details on what affects how much you'll get for your scrap car, it's a good idea to check out our Scrap Car Prices post).
5. Give the ATF your log book
The same rules apply here as they did above – you'll need to make sure you tear off and keep the yellow 'sell, transfer or part-exchange' section of your V5C, and hand over the rest. That's also a good point to hand over the keys, and any other paperwork associated with the vehicle.
6. Inform the DVLA (and don't forget to get your Certificate of Destruction!)
Many ATFs will do this on your behalf, but it's still wise to do it yourself, just in case. There are a number of ways to inform the DLVA – you can phone them, of course, but if you don't fancy sitting on hold for half an hour you can write to them, or email them instead.
Don't be shy about chasing up the scrap yard (or the DVLA themselves) for your Certificate of Destruction. It'll normally arrive within a few weeks, so don't dismiss it offhand if you find it's not arrived after that time. You may be risking a huge fine you don't deserve!
5 ways we make things easier here at Scrap Car Network
We've got over 40 years of experience behind us here at Scrap Car Network – plenty of time for us to refine our process so that it's never been easier, faster or simpler to scrap your car with us. Aside from our brilliant charitable initiatives, here are a few more reasons to choose us when you scrap your car…
1. Get an instant online valuation
You can get an online valuation of your car in as little as 10 seconds, right here on our site! All you have to do is enter your car reg and postcode into the relevant fields, and we'll get you your free, no obligation quote.
2. The best price – guaranteed
Nobody likes to spend their valuable free time hunting around on comparison websites for the best price. Happily, since we're one of the biggest networks of scrap car dealers in the entire country, we're uniquely well-connected – which means we're able to easily get you the best price for your scrap car, no matter where you live in the UK.
3. The bare minimum of paperwork

We've made it our mission to sort out as much of the paperwork for you as possible, so you're not filling out endless cookie-cutter forms when you scrap your car. We even inform the DVLA on your behalf, and will generally get your Certificate of Destruction to you within just two weeks.
4. We only partner with Authorised Treatment Facilities
We know that trust is a big factor in our industry, so we've made sure you don't have to spend time worrying about it. Every scrap car dealer we're partnered with holds the status of Authorised Treatment Facility, and we're very thorough in making sure that's the case!
5. We offer hassle-free collection of your scrap car, right from your driveway
Getting your scrap car to the dealer can be a bit of a headache, and a minority of companies may even charge you for collection services. That's not the case with us here at Scrap Car Network – collection of your scrap car is completely free, and all part of the service!
So what are you waiting for?
Scrapping your car is less complex than it can often seem at first glance, although it's never a bad idea to get organised with the paperwork as early as you can! Don't forget, we're here to help at Scrap Car Network. You can find the answers to the most Frequently Asked Questions here, or take a look at Part 1 and Part 2 of other common scrap car questions. Alternatively, if you're all ready to go, just enter your car reg and postcode into our site, and we'll guide you through the rest of the process. It's never been easier!