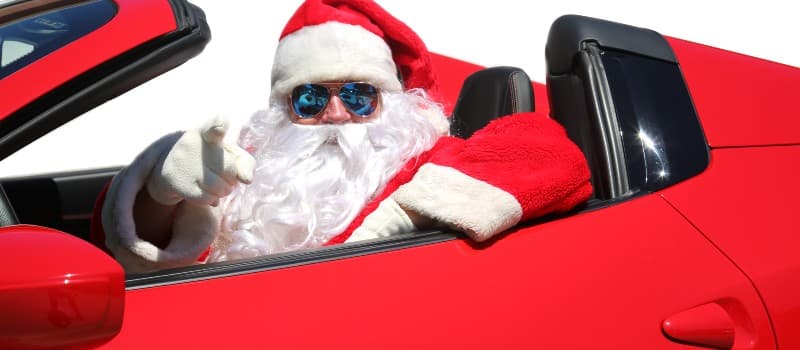 So then – what car would Santa drive? Our 4 festive suggestions
21st Dec, 2022
From any reasonably objective point of view, Santa's sleigh is basically the perfect custom vehicle. It's roomy. It's stylish. It flies. It's emissions-free and he only uses it once a year, so parking is practically a non-issue. (Presumably SORNs aren't really a thing up there in the chilly reaches of the North Pole.) It's also fuelled purely by the power of Christmas, which saves the jolly red fellow from certain economic concerns.
But say that just for once, he chooses to skip using the sleigh for a year. There might be all sorts of possible reasons for it, just like we all have different motivations for scrapping our cars. Maybe the skis need re-aligning. Maybe there's a bug in the stealth technology. Maybe he simply wants to give the reindeer a break. Whatever the case, if he leaves his sleigh parked up for a year – what kind of transport would he choose instead?
Well, we've got a couple of alternative automotive suggestions here at Scrap Car Network. If Saint Nick takes us up on them though, he'll probably have to give the sherry a break too. Someone over at The Scotsman did the maths, and worked out that if he only took five hours to do the whole of Scotland, he'd weave out of it with a Blood Alcohol Content that's 12,500 times over the country's drink-drive limit. And while that might admittedly impress a couple of people in Glasgow, maybe Prancer should temporarily sub in as designated driver (at least until they get to Dublin).
But for the sake of argument, let's assume Santa's bringing his Dry January forward by a few weeks. In that case, here's what we'd suggest.
Range Rover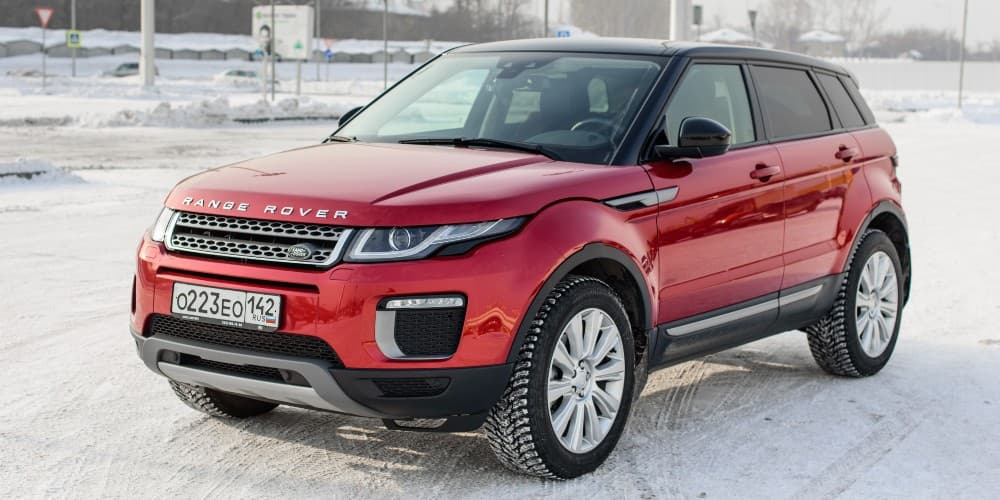 Pros: off-road ability and plenty of boot space
Cons: speed might be an issue
Father Christmas has to deliver presents to children all over the world, so it's probably going to be handy if he's got a vehicle which can handle some tricky terrain. The classic Land Rover is an excellent contender. It's also highly durable, so he can count on it to keep carrying him through heavy rain, wind, snow and ice. This famously bulky car also has plenty of boot space, so there's plenty of room for presents, and its relatively flat roof means he could pack a bit more on the roof rack if necessary too.
There are a couple of downsides though. Newer Land Rovers are notoriously unreliable, and it might be quite embarrassing for him to get picked up by the AA somewhere near Coventry. Even if it doesn't go wrong, Land Rovers aren't exactly known for being the quickest off the mark, so even with his mysterious time-warping magic, there's a chance he might still be delivering the last few presents well into January.
Bugatti Chiron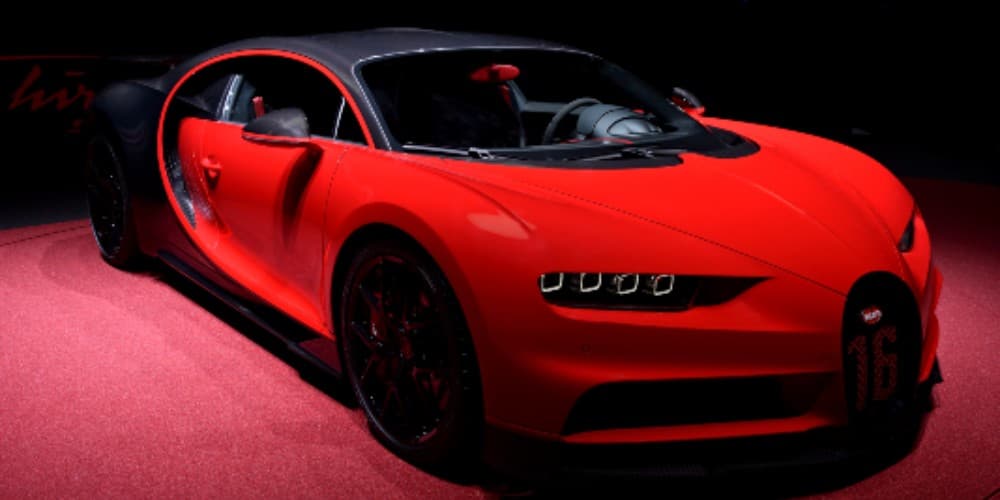 Pros: unrivalled speed and acceleration
Cons: aerodynamics, boot space, not great on uneven terrain
If Santa feels the need (the need for speed), he won't go far wrong with something like the Bugatti Chiron. It maxes out at 288mph, so it's safe to say it's got the Land Rover's shortcomings fairly well covered. Santa still might not be able to do the entire world in one night, but at least he could do a pretty good approximation of it. And let's be honest, it would make good old Saint Nick look holly-jolly awesome. Doesn't he deserve to feel the thrill of acceleration whipping through his long white beard?
That is, of course, if he stays on the roads. The Chiron may have been designed for speed, but it was built for the tarmac – so those children in rural areas might be left waiting a little longer for their presents while he battles through those three-point turns down various country lanes.
Plus, there's the boot space. At just 44 litres, it's… well, it's modest. He might struggle to get a couple of boxes in there really, never mind toys for all the world. He could always attach it to the roof somehow of course, but that's going to play havoc with the sleek vehicle's aerodynamics. So, while he might be able to circumnavigate the globe pretty niftily, it might take him several trips.
Peugeot e-208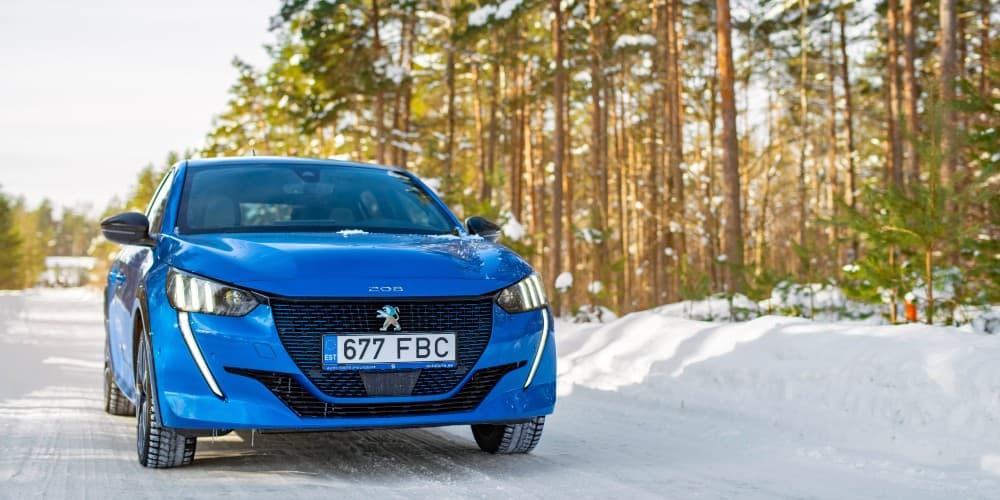 Pros: emissions-free, respectable boot space
Cons: range might be a problem
One of the many, many beautiful things about Santa's sleigh (especially in our increasingly climate-conscious society) is that it runs entirely on the magic of Christmas, which in this context makes it basically emissions-free. So if Santa particularly appreciates that quality, then he may well like to give the Peugeot e-208 more than a passing glance. And with 311 litres of boot space available, it strikes a pretty neat balance between the Land Rover and the Bugatti.
It's also got the PEUGEOT 3D i-Cockpit – a very high-tech infotainment system that should prove useful if he wants to experiment with ways to while away the long hours he spends on the roads during the busiest working day of his year.
However, the range might be an issue. One of the main obstacles to the rollout of electric vehicles is the lack of sufficient charging infrastructure, especially outside central London and the South East. And that's just in the UK alone. If Santa needs to make a quick pitstop in Fulham, he might be OK. Siberia, not so much.
Now in case you're wondering, the Peugeot e-208 will do 170 miles on a fully charged battery. That'll get Father Christmas from London to Sheffield, if he's not stopping along the way. Still, if he could deputise a couple of elves to pootle around some of the smaller UK cities, he could probably still make a big impact on his would-be carbon footprint. And if there's anyone who could get the little guys on board…
Mercedes Benz E-Class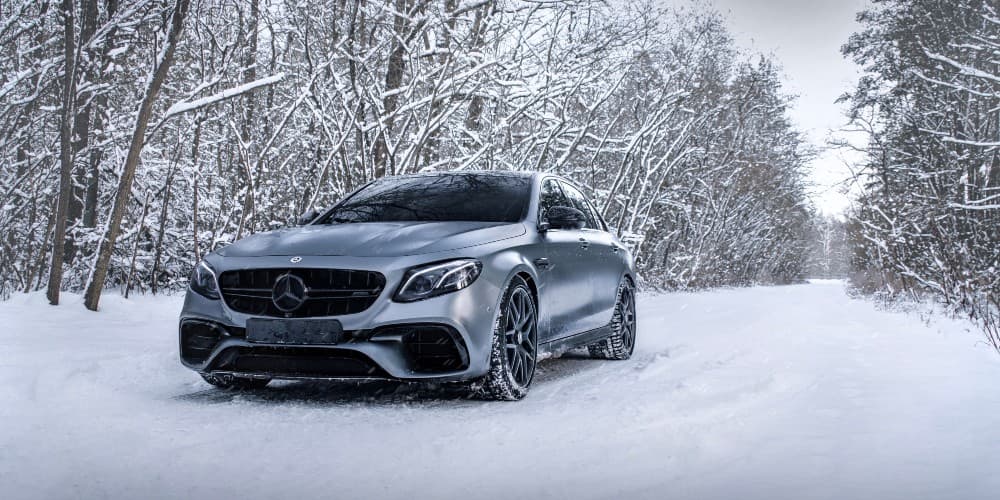 Pros: comfort and boot space
Cons: length could make it a problem in cul-de-sacs
Santa may not have updated his wardrobe in decades, but we're pretty sure even he could appreciate the undeniable finesse of a Mercedes Benz E-Class. Right off the bat, it's got a deceptively large amount of boot space: 640 litres initially, but if he fancies putting the back seats down then he could get that to over 1820 litres – which even tops out the Land Rover, by quite some margin. And with the Benz's own flat roof, he could probably get a couple more on top too.
Our festive friend might find himself drawn to the sensationally plush interior of the E-Class too – perfect for making tracks in total comfort. Plus, it's surprisingly zippy on the roads. Its most powerful variant can hit 62mph from a standstill in less than five seconds. On reflection, that's actually some slightly frightening acceleration. Thankfully for other drivers on the roads, the man behind the wheel is famously jovial – let's just hope Mrs Claus has given him a quick recap on how to use the indicators.
Those are just our suggestions of course – maybe you've got your own! Now, we should probably say that as you've already guessed, the above isn't an entirely sincere evaluation of each car's characteristics and capabilities – if you were hoping for an actual buyer's guide, we wish you luck in your onward search.
If you came here looking for the best prices when you scrap your car on the other hand, we're happy to say that's something we definitely can help with. With well over 40 years of experience behind us, we're focused on getting you maximum cash for your car.
Don't just take our word for it – get an instant online quote today! It's free, and there's zero obligation until you decide you're ready to proceed. Just enter your car reg and postcode into the fields on our site, and within seconds you'll be looking at your very own instant online quote. Ready to find out how much your car is worth?