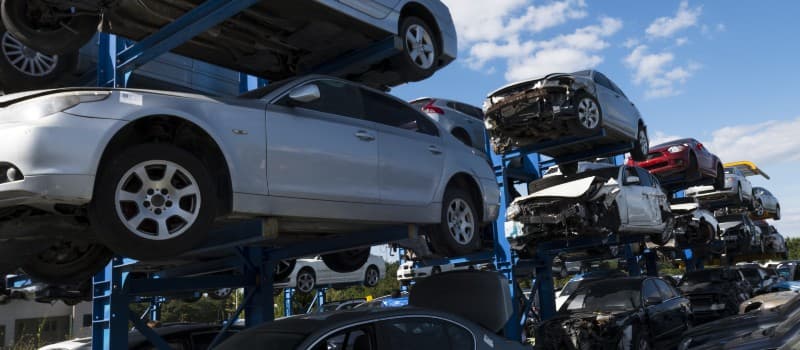 Why do I have to provide personal details when I scrap my car?
16th Sep, 2022
We live in an age defined by data. An age of personal profiles and "tailored user experiences". An age where lots of places seem to need your mother's maiden name in order to buy so much as a packet of mints. It makes sense, then, that lots of people are increasingly wary about handing over their personal data, especially when they're not quite sure about how it will be used.
So, we understand why you might be thinking – why do I have to give any personal details in order to scrap my car? Well, a lot of that comes down to the Scrap Metal Dealers Act – something that all UK scrap car dealers have to abide by, including our partners (and extension, us) here at Scrap Car Network. We won't get into all the in-depth legal jargon – instead, here's a quick and simple guide to why we need a couple of details from you by law.
What does the Scrap Metal Dealers Act of 2013 say?
There are two parts of the Act that are specifically relevant to the matter at hand:
A scrap metal dealer must not receive scrap metal from a person without verifying the person's full name and address.
That verification must be by reference to documents, data or other information obtained from a reliable and independent source.
In plain terms, that means every scrap car dealer has to see photo identification so that you can prove you are who you say you are, and that you have a verifiable link to the car.
That means you'll probably find it useful to have your driver's licence handy, as well as your V5C. That last one is sometimes known as your vehicle logbook, or vehicle registration document – they're three different names for the same thing. (Of course, if you've lost your V5C, happily you don't need to worry too much – we can still scrap your car as long as you can prove you're the registered keeper.)
What does the Scrap Metal Dealers Act require picture ID?
The requirement for identification is basically designed to deter thieves from simply stealing cars, bringing them to a dealer, and then selling them for scrap. As we've mentioned in our post about scrap car prices, every car is worth something, even if that's only its weight in scrap. The payouts are generally in the triple figures (and here at Scrap Car Network, we've got the best prices around). That could make them extremely lucrative if you're in the business if stealing cars, so the ID requirement essentially establishes a paper trail, and one that the authorities can follow should they need to. In fact, since the introduction of those laws, scrap metal offences of this sort have dropped by 79%.
(There are also a number of common sense reasons for it – if the ID requirement wasn't in place, and you were in a dispute about parking or something similar with your neighbour, what's to stop one of you from simply calling somebody up and arranging for the other person's car to be scrapped?)
In fact, while we're on the subject – that's also why it's really important to ensure that you get a proper Certificate of Destruction from the DVLA. This stops the opposite from happening, in which a scrap car dealer takes your car off your hands and then doesn't scrap it like they said they would, but rather sells it on in a dangerous condition. There have been cases of dishonest dealers selling 'destroyed' cars on to be used as ram-raid vehicles or getaway cars. There have been tales of drivers scrapping their car, failing to get a CoD, and then being surprised to find the police a-calling because it's been used in a ram raid or something similar.
That's the basics covered – if you've got any more specific questions, don't hesitate to contact us! Alternatively, if you're ready to get your car scrapped today, that's where we can help. We've made sure that the information we require from you is at the bare minimum, and best of all it's never been easier to get started – all you have to do is enter your car reg and postcode into the fields on our homepage, and we'll provide you with an instant scrap car quote! Curious to see how much your car is worth?