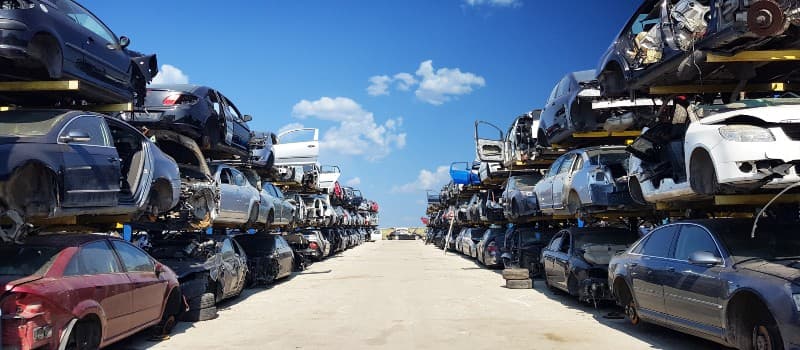 Revealed: the most scrapped cars in the UK
20th Sep, 2022
Roughly a million cars are scrapped every year here in the UK, generating millions of tonnes of waste. Thankfully, 25 million tonnes of that waste is recycled, and we're proud to do our part in it here at Scrap Car Network. When you decide – I need to scrap my car, and you choose us, you'll be pleased to hear that we guarantee to recycle at least 95% of your vehicle, from the rubber in its tyres all the way up to the oil in its engine!
But, you may be wondering, what kind of cars are scrapped the most in the UK? Well, a recent 2022 report has answered that question for you…
1.The Ford Focus – 29,525 cars scrapped
No surprises here. The Ford Focus has long been the UK's most popular car – to give you an idea, there were just over a million of them on the road at the end of 2020. And with 30 million drivers in total here in Britain, that means about one car in every 30 is a Ford Focus. Honestly, people really like them.
And no wonder really – according to Repair Pal, the Ford Focus has a reliability score of 4 out of 5. In short. They're cheap, reliable and they go for miles, and the sheer number of them present on the roads is probably a strong indicator of why so many go on to be scrapped.
2.The Vauxhall Astra – 22,143 cars scrapped
Coming up hot in second place is the Vauxhall Astra – the fifth most popular car in the UK, so again it's small wonder that so many of them are scrapped every year. It's a small family car with about 829,000 models pootling around up and down the country, with much of the same selling points as the Focus; it's economical, reliable, and as a bonus it's surprisingly roomy, all of which makes it a great family car.
There's possibly a little bit of national pride in there too, as Vauxhall has been a British company since its inception. (Having said that of course, it's been owned by European group Stellantis since January 2021.)
3.The Vauxhall Corsa – 21,717 cars scrapped
Another cracker from Vauxhall, the Corsa is third on the list of the most popular models in the UK, with around a million on the roads. (So how does it end up below the Astra, you might be asking? Well, there's a short answer and a long answer, and the short answer is that sometimes statistics work like that!)
It's always a great choice for drivers who are looking for a fun, sporty supermini – lots of recent reviews have made particular mention of its improved build quality and better engines. Naturally, it's a hugely popular starter car with young drivers, too.
4.The Ford Fiesta – 18,034 cars scrapped
Let's be honest – you knew the Fiesta's name was going to pop up. Again, there was roughly a million of them on the roads by the end of 2020, and it's long enjoyed a reputation as one of the UK's favourite cars.
Like the Vauxhall Corsa, it's highly popular with younger drivers, largely because of its affordable cost and excellent fuel economy (which has been particularly important recently, with the steadily rising prices throughout 2022). In fact, a survey last year showed that the Ford Fiesta was the second most popular car choice for 17 and 18 year olds, only just beaten to the top spot by – you guessed it – the Corsa.
Here at Scrap Car Network, to us it doesn't matter exactly what you're driving – whether it's a Ford, Vauxhall, or even an Audi or Porsche, we'll scrap it all the same. We work hard to make sure we're able to offer you the very best prices. All you need to do is enter your car reg and postcode into the fields on our site, and when you're ready, you can find out the value of your car in as little as 10 seconds!
Curious to find out how much your car is worth?