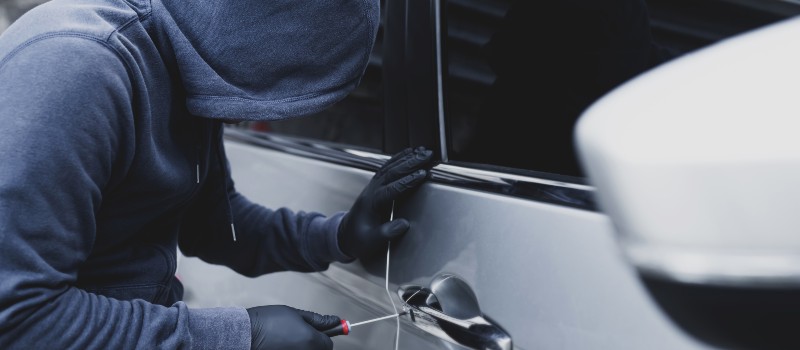 Parts shortages could be fuelling illegal car scrapping
31st Aug, 2022
We're all still dealing with the after-effects of Covid to some extent – but unfortunately, increasing numbers of car owners up and down the UK are facing some particularly tangible consequences. According to police in the West Midlands, the UK is now experiencing a rise in the number of car thefts across the country, many of which can be traced back to the continuing economic effects of Covid. So, you're probably wondering, how much danger am I actually in from thieves who might want to scrap my car?
Here's what you need to know!
What's happening with the latest car thefts?
In a nutshell, police think that parts shortages are largely to blame for the recent rise in car thefts. Records from 34 police forces across the country shows that there were almost 90,000 vehicle thefts (88,915) between March 2021 and the same month of 2022.
The data shows that some regions are being hit harder than others with car thefts:
• In South Yorkshire, thefts were up by 28%
• In City of London, thefts were up by up 25%
• In West Midlands, thefts were up by 19%
• In Surrey, thefts were up by 12%
• In Merseyside, thefts were up by 4%
• In Greater Manchester, thefts were up by 1%
According to Superintendent Jim Munro of West Midlands Police, some of the most well-equipped thieves can even strip cars in the same night – they simply steal it from its parking place, take it to an industrial unit, and then remove the most valuable or practical parts from it in a matter of hours. The parts themselves are then simply sold on, and the remaining shell is scrapped.
Farmers and other rural car owners are particularly worried, as older Land Rover Defender models are proving particularly vulnerable – partially because they lack many of the more sophisticated security features now being included as standard on newer cars.
What are the reasons behind the latest car thefts?
Essentially, a lot of it comes down to the economic reverberations from Covid-19. (Even though it might now seem like a distant memory to some, with the current cost-of-living crisis!) The knock-on effects from the pandemic resulted in various factory shutdowns, which in turns caused a shortage of parts and a delay in car production of certain models.
Microchips were one casualty, a situation which wasn't helped by the fire at Renesas Electronics just as the pandemic kicked off, in March 2020. (The resulting shortage was widely referred to by the deceptively perky moniker of Chipageddon.)
There's also notably a link between some of the most common car brands on the road, the cars targeted by thieves. It makes sense given due consideration – the cars driven by the most people will be most in demand for parts, and therefore, the most heavily targeted models. That's at least part of the reason why Land Rover Defenders are being targeted, by the way – as well as the whole security issue.
How can I stop myself from becoming a victim?
So that's all the worrying stuff – now for a bit of good news. For starters, police aren't resting on their laurels; there have been well over 2000 arrests this year alone, and a number of 'chop shops' (where stolen cars are dismantled) have been permanently put out of commission.
There's also no shortage of ways to help keep your car safe – the police recommend immobilisers, tracing devices and pedal and steering wheel locks. It's also worth thinking about where you park your car; try to stick to brightly lit areas with lots of foot traffic. Each individual measure alone might not be enough to deter a prospective car thief who's determined enough, but since the vast majority are opportunists, several of them in tandem will probably be more than enough to make them decide it's not worth the risk.
If you're particularly worried, it's also a good idea to make sure you're locking your vehicle manually, rather than remotely from a distance – that way, there's a lot less chance of something blocking the signal.
Of course, while this is all good-to-know, we should keep our post in perspective for you – when it comes right down to it, the chances of your car being stolen are relatively minimal, especially if you're being prudent with where you park. Security measures can help to give you some useful peace of mind, though. And really when your car finally goes to the scrapyard, there's a good chance that it won't be an illegal chop shop, but that you'll have voluntarily sent it off to one of our Authorised Treatment Facilities here at Scrap Car Network – and got a tidy bit of cash for your car, to boot.
It couldn't be easier too. All you need to do is enter your car reg and postcode into the fields on our website, and we'll give you an instant scrap car quote in seconds. Curious to find out how much your car is worth?