Scrap Car Network hits record number of 5-star reviews
11th Jan, 2019
Scrapping a car can be quite a stressful task for many people. Finding a reputable company who gives you the best value for your old car can be harder than you think, especially if you've never done it before. It's one of the reasons we work so hard here at Scrap Car Network to make it as easy, simple and fast as possible for our customers, while giving them the most amount of money for their scrap car. We recently reached a record number of 5-star reviews, demonstrating that for many people, we're achieving that goal!
"Solved the problem with no hassle"
We've now got more than 5000 reviews from our customers on Trustpilot, a popular consumer reviews platform. Of these:
92% are rated 5 star, or 'Excellent'

6% are rated 4 star, or 'Great'

…which gives us an overall trust score of 9.7 out of 10
Customer trust is always a key concern for us; scrapping your car naturally involves dealing with some personal information, which makes people especially wary of tricks or scams. We're happy to see that our commitment to integrity, honesty and quality of service is all making an impact on our customers. We'd love to go into a little more detail, but we think it's best you hear it from them!
Customer Vicky wrote: "I was sad to see my little car go but Scrap Car Network solved a problem for me with no hassle."
And Danny said: "I was sorry to see my car go after having it for 23 years but they were very efficient and courteous and the money was paid into my bank quickly."
While Michael wrote: "Every part of the process was clear and simple. And it's great knowing that scrapping my car will help a brilliant charity."
You can click here to read our full list of customer reviews.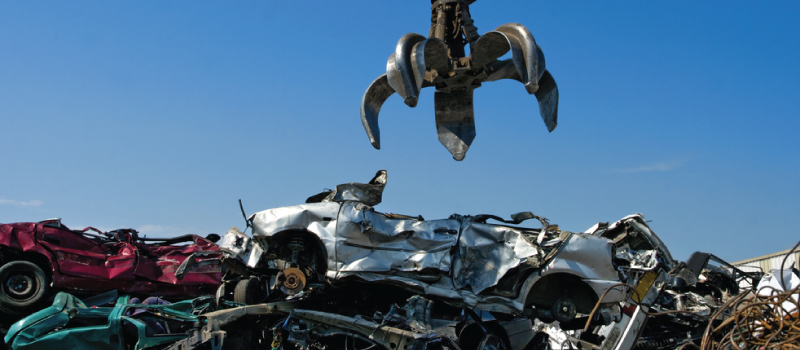 Why do so many customers choose Scrap Car Network?
There's no shortage of reasons that we're one of the top choices when it comes to car scrapping. We've summed up some of the main ones below:
Free, convenient collection
A core part of our service involves matching you with one of our trusted parters, and we'll always find the one who's closest to you. This way, you can count on hassle-free collection of your scrap car right from your driveway, sparing you from any headaches about how to transport it to the scrap yard. In fact, we do as much of the hard work for you as we can. And if you're having trouble finding the paperwork, we've got you covered – we can even scrap your car without your V5C.
The best prices
We know that getting the best price is one of your key priorities when you scrap your car, so it's one of the key factors we take into account when matching you with our partners. (If you've got time, it's definitely worth checking out our post on scrap car prices to find out how you can get the most cash for your scrap car.)
Customer service
To be honest, our customer service manager Ryan Winterflood said it best: "People are at the heart of everything we do at Scrap Car Network and Recycling Lives, so we work hard to deliver excellent customer service. We're so pleased our customers see this and know their custom with us supports programmes which are changing lives and building better communities."
Supporting charity
In his quote above, Ryan touched upon another key part of our business model here at Scrap Car Network. As part of the wider Recycling Lives Group, we actively support several charity and social enterprises, delivering three social programmes:
Offender rehabilitation – helping men and women in prison to develop skills and secure work and housing for their release, reducing reoffending rates

Residential charity – supporting men facing homelessness, helping them to secure stable accommodation and permanent employment

Food redistribution – taking surplus food from supermarkets to redistribute to charitable groups, who ultimately ensure it goes to people most in need
You can be sure that when you choose Scrap Car Network, you're not only ensuring you get the best value, but that you're also helping some fantastic causes. It only takes a second to get a free, no-obligation quote…ready to find out what your car is worth?