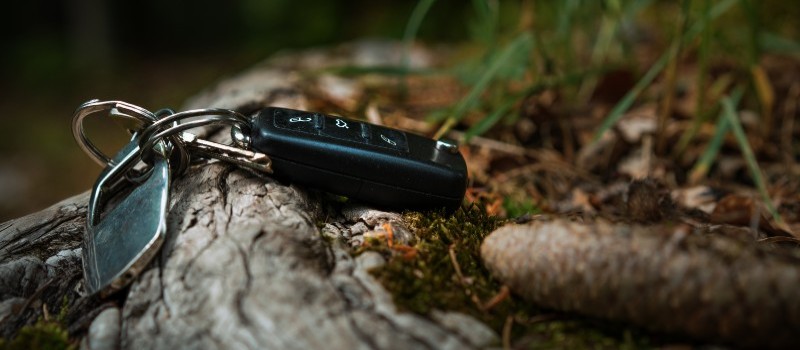 Can I scrap my car even if I've lost my keys?
25th May, 2022
Let's be honest, we've all lost a set of keys at some point or another. It's easily done! It's particularly irritating when it's something important, like your house or car keys. Happily though, it's not a deal breaker when it comes to trying to scrap your car with us here at Scrap Car Network. A lost set of keys won't be a barrier in the way of you recycling your old vehicle responsibly, but there are a couple of things you'll need to be aware of when you come to do it. We've summed them up below!
Going through our breakers
Generally speaking, the vast majority of breakers yards will accept your vehicle for recycling without the keys. The only thing you need to prove is that you're the registered keeper of the vehicle. If you have your vehicle registration document (V5C) stored somewhere safe, that's the easiest way to prove that you are its legal owner. Lost your V5C? No problem – if you've got a copy of the receipt of purchase from when you bought the vehicle, this will also serve as proof of ownership. Alternatively, an up-to-date SORN document from the DVLA will be acceptable. If you don't have either of these, it's worth checking out our post on what to do if you've lost your V5C.
Will losing my keys affect the price I get for my vehicle?
Losing your keys may have a slight impact on the price you receive for your scrap car. This is only a minor amount though, and there are a couple of reasons behind this.
By not having a working set of keys to hand, it's very likely that the doors of your vehicle will be locked, restricting access to the interior, and making it more difficult to manoeuvre it onto the collection truck and strip the vehicle of parts. As a result, the scrap car breakers will probably have to smash a window in order to gain access to the vehicle, so that they can release the handbrake, allowing them to tow it.
On top of this, restricted access to the fuel cap will mean that in order to siphon any remaining fuel out of the car's tank, the breakers will have to cut the fuel pipe. These additional processes all take time that will factor into the reduced price quoted to you for your scrap car.
Will Scrap Car Network still take my vehicle without keys?
Yes – even if you've misplaced your vehicle registration document (V5C), we'll still scrap your car as long as you can prove that you are the registered keeper of the vehicle. The main thing to bear in mind is just to make sure you let us know beforehand. Once everything has been finalised and sorted out, we'll get you that all important Certificate of Destruction so you can rest easy in the knowledge that you're no longer legally responsible for the vehicle.
Here at Scrap Car Network, we make it as easy as possible for you to scrap your car. We won't be beaten on price and getting a quote is easy – just enter a few details about your vehicle on our homepage and you'll get an instant price! Why not see how much your vehicle is worth?