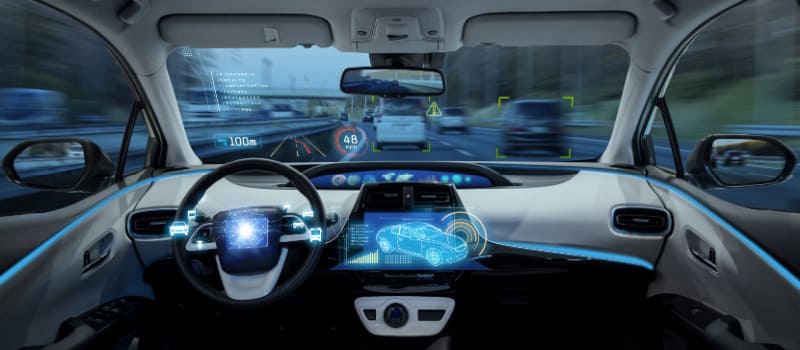 What will the car interiors of the future look like?
20th Jan, 2021
Not long ago, mobile phone technology underwent a pretty seismic revolution – and now the same is happening for automotive technology. For many people, cars are already more than just a method of getting from A to B. They're now providing an entire 'travelling experience', tailored to you – which might make it a lot more difficult when you finally realise I have to scrap my car.
Now, a lot of this travelling experience has been shaped by, and is dependent on, infotainment systems. If you've not heard the term before, it's a portmanteau of information and entertainment, and refers to the integrated systems that nowadays handle navigation, music, some elements of manoeuvring (via reversing camera feeds), and of course hands-free (and therefore legal) communication.
But even though they already do all that, they're still being sized up for additional functionality, with sophisticated voice controls and touchscreen graphics which can compete with powerful games consoles. Big car manufacturers are currently jostling to come out ahead with software – at the moment, Volkswagen and Google are winning that particular race. Volkswagen Group sells 10 million vehicles a year that use the company's own platform and operating system, while Google is in the midst of putting Android auto in more than 100 million cars, and Mercedes Benz has already unveiled a system of its own, the MBUX. So, with cars interiors set to transform almost unrecognisably in the coming years, here are a few examples of just what you can expect.
Supercharged processors and next-gen displays
The idea of conjuring up 3D images of our own cars on internal display screens is one that's been firmly established for decades in the likes of James Bond films and science fiction franchises – but now more than ever, it's edging closer to a daily reality for drivers. Using powerful graphics chips, internal displays will allow users to manipulate 3D models of their cars, enabling them to explore various functions, or get more details on potential faults or issues.
Of course, the extent to which you can do this while the car is in motion is probably going to be limited for obvious safety reasons, but it could provide some valuable warning and / or peace of mind for drivers as to the nature of suspected faults with their car, and exactly how concerned they should be.
Voice recognition
Let's be honest – voice recognition technology has historically been pretty choppy. The challenges for the tech have always been pretty diverse; for example, it's got to be able to discern human speech from background noise, and it's not always been that great at dealing with strong regional accents. However, the modern prevalence of 'smart home' systems demonstrate that the technology has come along in leaps and bounds, and it's already a firm fixture in many brand new cars, allowing drivers to make hands free voice calls with just a few words. While it's mostly limited to the more high-end cars at the moment, it's well on the way to becoming a standard feature for almost all vehicles further on down the line, opening up a new era of mobile connectivity on roads all across the world.
Artificial intelligence
Closely linked to our points about voice recognition software above, we have the idea of artificial intelligence, and the increasingly large role it has to play in our everyday journeys. While a simple satnav is perfectly capable of getting you from home to your destination, artificial intelligence can take that one step further by learning your most common driving routes, your favourite destinations – such as a treasured restaurant – and even what kind of music you like to listen to on the way.
Plus, one of the most valuable functions of digital assistants today is their ability to remind you of key dates in your diary. That's immensely valuable not just for personal appointments, like a loved one's birthday, but also for key dates or your car admin too, such as telling you when your MOT date is due. (Of course, all that is dependent on how much you want to tell it – we'll get to that in just a moment.)
From here though, it's likely that the capabilities of voice technology will expand to perform more sophisticated actions in the vein of other 'digital assistants', such as diagnosing mechanical problems on the fly, or even integrating with your home systems, so that you can turn the heating on when you're ten minutes away, and have the home nice and toasty when you arrive.
Access to apps
When it comes to our phones, we're all plenty used to being able to access our favourite apps in a matter of seconds. Well, automotive technology is already at a stage when we're able to do that in our cars, too. Some modern vehicles will allow you to play music straight from your Spotify account, or allow you to watch videos from YouTube, or movies and shows on Netflix. However, for obvious reasons, only a limited number of apps can be used while the car is actually in motion. That might change when everyday cars reach a higher level of autonomy, but the days when drivers can entirely take their attention off the roads are a long way off.
So when will all this happen?
To be honest, it's difficult to say. We're certainly a heck of a lot closer to it now than we were ten or twenty years ago, but that's the thing about technological change – it can be easy to forget that it rarely happens overnight. Instead, it develops in increments, and what's more, this kind of tech now faces a whole new raft of unique problems.
You've probably already guessed one of the main ones: data privacy. Some manufacturers have stated on record that the more the cars know about their drivers, the better their experience will be. But we're all learning to try and be more protective of our personal data, and with good reason – here at Scrap Car Network, we've already detailed the kinds of problems that can arise when your car knows too much about you.
With all that in mind, it's likely to come down to that eternal modern conundrum, namely: what's more important to you, convenience or your privacy? Some carmakers are already considering partnering with technology companies for the development of their in-car entertainment, which means that drivers have to consider the possibility that elements of their personal data will be shared between at least two companies, and that's just for a standing start.
Volkswagen have already gone on record to say that they're since they're using their own platform and operating system for their infotainment systems, they have no intention of selling their customers' data. Now, we're all waiting to see whether other carmakers will make similar commitments. If or when they do, then it will come down to your answer to this question: do you trust them to keep that promise?
We'll leave that thorny issue in your hands. We're not professional futurists or infotainment engineers here at Scrap Car Network, so we can't make guarantees on that front. We can guarantee you one thing though – you can count on us to get you the very best price for your scrap car, and all with an absolute minimum of fuss and hassle. All you need to do is enter a few details into our homepage, and we'll provide you with an instant online quote then and there. Curious to find out how much your car is worth?