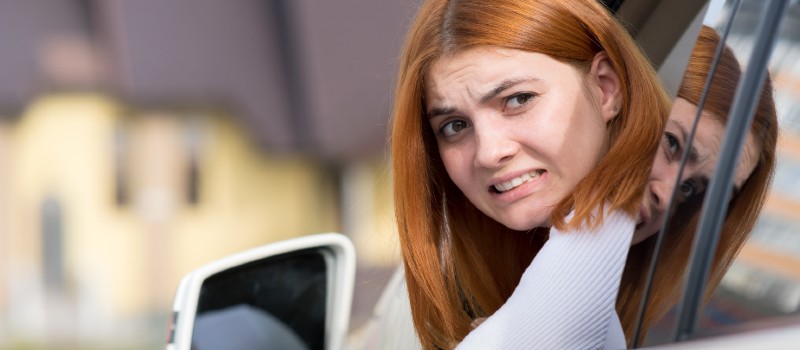 The top 5 car concepts that failed on the first lap
11th May, 2022
Sometimes an idea can be a good one on paper, but fall a little bit short in practice. Car concepts are by no means an exception to this rule, and over the years there have been some really unlucky designs that just couldn't quite get the traction or publicity they desired. This week here at Scrap Car Network, we're taking a look back at some of the most unsuccessful concept cars that were so disappointing that they left many of their buyers thinking – what excuse is good enough for me to scrap my car…
The Jaguar X-type
Jaguar was fast approaching a level of reliability and respectability when the all-wheel-drive X-type came along to throw a substantial spanner in the works. Described as "Seriously under-built", "ridiculously overpriced" and "not exactly a looker", it's safe to say the X-type was a step in the wrong direction for Jaguar.
The initial intention was for the X-type to be an entry-level sports sedan that would save the financial fortunes of Coventry. The plan was to appeal to young, affluent buyers, but unfortunately for Jaguar, the young and affluent weren't interested. The big problem was that nobody really had any idea how to market these things, resulting in unfortunate sales numbers.
The Ford Th!nk
Frankly, this is one of those ideas that should never have got off the ground. The idea was to create a line of all-electric city cars that would blaze a trail into the new age of eco-friendly vehicles for Ford. However, things quickly fell apart at the launch of their first model, the Th!nk Neighbour, which was unfavourably compared to "a glorified golf cart". Not something you can take on a bunch of major brands with!
Following on from this, Ford released the Th!nk City which definitely wasn't up to the spacious standards of other luxury cars at the time, and offered a driving range of 50 miles per charge, which wasn't enough to get buyers buzzing. It's fair to say that Ford probably should've put more thought into the Th!nk range.
The Chevrolet Tahoe Hybrid
To give them some credit, the engineers at Chevrolet didn't sacrifice any of the Tahoe's key features when adapting its hybrid power train. It could still seat eight people, could still tow up to 3719kg, and included a monster 6.0-litre V-8 engine as its other source of power. Things looked good on paper for this eco-beast!
Of course, given the additional weight of the new hybrid system, some modifications were required. The new model included an aluminium hood, front bumper, driveshaft and rear liftgate, but it was still over 150kg heavier than its gasoline-only counterpart.
Ultimately, this car concept fell apart when its key purpose fell under scrutiny. Quite simply, it wasn't all that great as a hybrid. Achieving just 19mpg, many customers were left wondering why Chevrolet didn't just offer a diesel version like it does today in the Suburban, Silverado, Colorado, and of course the mighty Cadillac Escalade as well. The Tahoe Hybrid was finally put to bed after 6 years when Americans finally rejected the $53,000 flop, even when gas prices were averaging $3.27 per gallon (about £2.50 per gallon for us).
Pontiac Aztek
At a time when Sport-utility vehicles were taking off, Pontiac evidently thought it was making a sound investment in the Aztec. Most car companies were still only offering truck based utility vehicles that focused on off -road capabilities at the time, so the idea of a more street-friendly crossover was a tasty proposition that Pontiac was sure would be a hit.
The stage was set for Pontiac to take the Sport-utility vehicle market by storm, so what went wrong? Well, they say you shouldn't judge a book by its cover, but a car on the other hand…
There's no other way to say it – the Aztek has been dubbed the ugliest car ever made by a wide variety of journalists and car enthusiasts alike. The design took inspiration from GM's minivan, but what it ended up with was enough to completely derail the entire line. The wildly inconsistent detailing and odd choice in proportions made the Aztek a real challenge to look at.
However, the Aztek did get its moment in the spotlight though when it featured as the vehicle of choice for the crystal meth making science teacher, Walter White in the Breaking Bad series. This wasn't meant as an affectionate homage to the cars greatness though – show creator Vince Gilligan has said that the reason he picked it was to make "Mr. White look somewhat pathetic". Ouch.
The Vector: well, just all of them really
Established in the early 70s by eccentric founder Jerry Wiegert, Vector's original aim was to create an affordable American supercar. Its first prototype, the W2, sported some pretty outlandish aesthetic features, as well as a twin-turbocharged 650-hp Chevrolet V-8.
This was met with less than favourable reviews, and the follow up, the W8, was released nine (yes, nine) years later to the avid anticipation of absolutely nobody. Only twenty-two cars were built, and by the end of production, the list price approached half a million dollars (some way off being an affordable supercar). The company was acquired by an Indonesian manufacturing conglomerate in 1993 and Weigert was removed as CEO.
The company spat out a few projects thereafter, including a Lamborghini-powered M12 which Jeremy Clarkson called "very probably the worst car in the entire world." Not a great track record, but the future of the company looks… interesting? Weight recently regained control of the company, and has promised to release a 1800hp 'hypercar' in the near future (though going off its previous developments, the near future could well be a decade from now).
With all that considered, it's really no wonder that many of these cars were ultimately destined for the scrapyard. And if yours is too, that's exactly where we can help here at Scrap Car Network. We make sure that it's never been easier for you to scrap your car – we won't be beaten on price for your scrap car, and all you need to do to get your own instant online quote is just enter in a couple of details to our homepage, and you'll be looking at yours within 10 seconds! Ready to find out how much yours is worth?