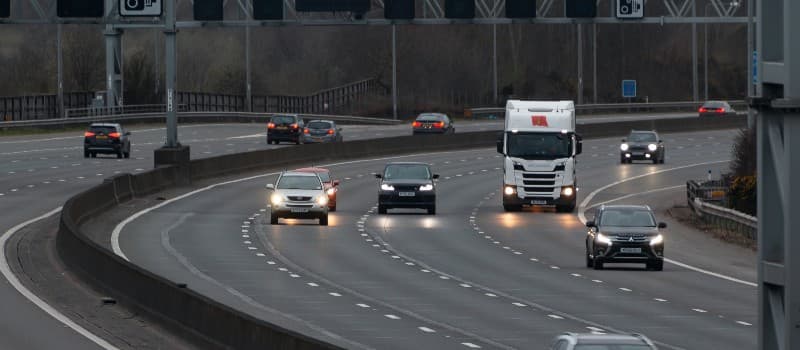 Smart motorway technology not currently fit for purpose
30th Jan, 2023
Smart motorways have been around for a long while now – longer than most people realise, in fact. The first one was actually opened all the way back in 2006, which means that if you've been driving for more than a few years, there's a very good chance you've driven on one already. We've even talked about them in detail before here at Scrap Car Network.
But while the general tone of our previous article is quite optimistic, things have changed quite a lot in the past four to five years. Smart motorways have always been surrounded by some level of controversy, mostly to do with safety concerns – especially in the case of All Lane Running smart motorways, which remove the hard shoulder to replace it with a live lane of traffic instead.
These safety concerns have become especially prevalent in recent years, with more people than ever worried about having a crash that could leave them thinking – I need to scrap my car. (Or worse!) Eventually, the government was forced to pause the rollout of smart motorways in January of 2022. That was twelve months ago. So where are we now?
Why did the government pause the rollout of smart motorways?
In a nutshell, the government has halted all new development on smart motorways because of safety concerns. The blunt way of saying it is that people have been getting killed and injured more frequently on smart motorways, and in several high-profile cases, coroners have found smart motorways to have been a significant factor in the deaths of the people concerned.
One estimate says that live fatality rates were more than a third higher on ALR motorways than they were on conventional motorways in 2018. Another more recent study from Fleet News found that about half of drivers surveyed said they avoided All Lane Running Motorways , which undermined the central aim of reducing congestion.
Compounding that is the issue of false detection rates. In the words of the RAC head of roads policy, Nicholas Lyes: "Breaking down in a live lane is terrifying enough, but drivers must have confidence that the infrastructure is detecting them quickly so authorities can immediately close the lane."
However, false detection rates (basically, the system crying wolf) are several times over the maximum margin allowed. They're supposed to be no more than 15% of the total number of detections, whereas actually they can constitute anywhere between 63% to a staggering 83%. It's not the sign of a reliable system – especially when lives are at stake.
All that put the government under a significant amount of pressure, eventually forcing the scheme to come to a halt in 2022. The pause will continue until 2025, which should give the government enough time to work out what the next step should be.
What happens now?
The biggest obstacle for the government is that it can't just hit "undo" on a project that's been years and millions of pounds in the making. As the previous Minister for Transport, Grant Shapps, explained to Parliament last year: "it would require the equivalent of 700 Wembley stadium-sized football pitches to somehow undo all this. We'd have to buy people's homes, to destroy acres of green belt. I don't see there's a route through simply undoing. We've got to make what is there safe."
In the meantime, drivers remain unconvinced. The RAC says that according to its own research, 70% of motorists want to see All Lane Running motorways scrapped entirely. Instead, they want to see smart motorways reverted to their 'dynamic hard shoulder' variant, in which the hard shoulder is opened and closed for use by traffic according to the amount of congestion – rather than simply being permanently removed.
Labour have also called for All Lane Running motorways to be abolished. Even Mike Penning, the Conservative peer who originally oversaw their initial rollout, now says he was 'misled', and that they should 'never have happened'.
As for exactly what the government will do… well, we don't know any firm courses of action just yet. But it's very likely that ministers will be working on some solutions already in the pipeline – and if they're not, the public will want them to come up with something, quickly.
Despite all the uncertainty surrounding that though, you can always be sure of one constant – and that's that you can always get the very best prices when you scrap your car with us. Don't just take our word for it – get an instant online quote today! It's free, and there's zero obligation until you decide you're ready to proceed. Just enter your car reg and postcode into the fields on our site, and within seconds you'll be looking at your very own instant online quote. Ready to find out how much your car is worth?