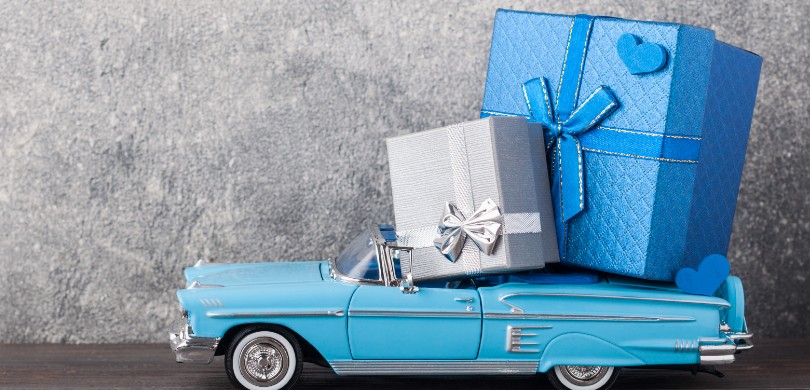 Our top suggestions for petrolhead presents this Christmas
16th Dec, 2021
Christmas time is upon us! As the big day gets closer, excitement is building for festive TV, delicious food and fun with the family. Presents are a big part of Christmas, and while at Scrap Car Network we might be best known as the place to come if you're thinking "I might scrap my car!", we also know a thing or two about gifts for the petrolhead in your life, too. So, sit back and get ready for some automotive inspiration ahead of the big Christmas shop!
Car mats and air freshener – £
These classic car-lovers' gifts are pretty simple, but they're always a safe bet. For anyone that enjoys taking care of their car, these two gifts will be heartily appreciated. You can get car mats from any automotive shop and most garages, and air fresheners are in most general stores. Great as a gift themselves or as a stocking-filler, these inexpensive accessories are handy for all drivers.
Magazine subscription – £
If you're still a little unsure for inspiration, another sure bet is to buy them a subscription to their favourite car magazine. Many motor enthusiasts love to keep up to date with the news, new models and features, and giving them a magazine subscription will help them do just that. There are plenty of choices for many different motor interests, from racing and classic cars to more general, contemporary interests such as supercars. And the great thing about this gift is that it keeps on giving – each month they will receive a new magazine to remind them of what a great gift you bought!
Wireless phone charger – ££
Car phone chargers have been around for a while, but the more people use their phones for maps, apps and music, the greater the need for charging on the road. One problem with standard vehicle phone chargers is that the wires get in the way – which is not only annoying, but could even be actively dangerous while driving. Buying someone a wireless charger as a gift is a handy and useful present that will get more than its fair share of use. The best gifts are the ones that offer a bang for their buck, and this is definitely one of those presents!
A build-your-own model car – ££/£££
This could be one for the purists, but if you'll indulge us – personally, we always think that model cars are truly timeless. They let the owner to build their dream car without having to get their hands (too) dirty. There are all sorts of model car brands to choose from (from Revell to LEGO) and are suitable for all sorts of budgets.
A supercar experience – ££££
And of course, if you've got the budget and you think a model car might not quite cut the mustard, any car enthusiast would love the gift of being able to drive an incredible supercar around a racing track. While these gifts can often stray above the £100 mark, for a close friend, family member or partner who loves fast cars and thrill rides, this is the experience of a lifetime.
A piece of automotive art – ££/£££/££££
When someone has a passion, they often love to express it in any way they can. Wall art is a great way for this expression to shine, and there are a lot of quality artists out there that make their money from automotive art. From the old classics to modern supercars and everything in between, we think it's a good bet that the car lover in your life would be delighted with a piece art of their favourite motor.
That should give you a solid base to start from! And while we might be chock full of shopping advice here at Scrap Car Network, we won't let it distract us from what we do best – making sure you get the best price for your scrap vehicle. So, if you're considering getting rid of your vehicle, but you don't know where to start with scrapping, then visit our homepage where you can easily get a scrap quote by entering just a few details about your car. It couldn't be easier – why not find out how much your car is worth?