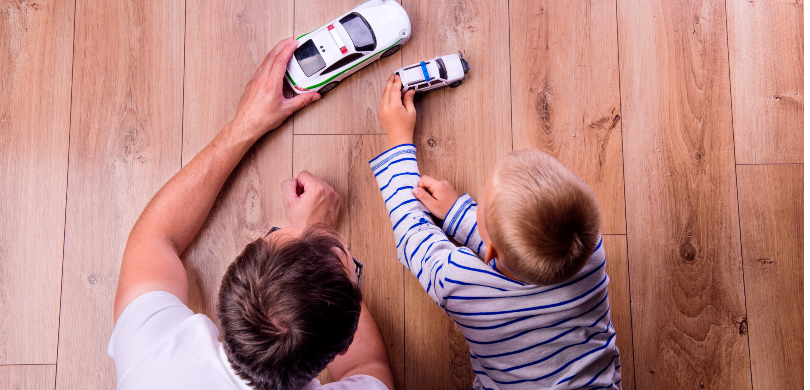 Father's Day gift inspiration for car-mad dads
2nd Jun, 2021
We know what you're thinking, and don't worry; the 20th, it's not until the 20th. So you've still got a few weeks yet. But don't make that all-too-common mistake of leaving it until tomorrow, because it'll be the evening of the 19th before you know it.
Now, at Scrap Car Network we know all about working to tight deadlines – just ask anyone who's turned to us once they've decided: I need to scrap my car. So we're under no illusions about one of the trickiest bits of the run up to Father's Day. That is, of course, picking out the presents. Happily, that's where we can help with a bit of handy gift inspiration for your dad. Here are a just a few ideas to get your gears spinning!
A diecast model car
Let's start with an easy one, not least because it's a good one to go for if you suddenly do find that you've run out of time, or if you were on a tight budget to begin with. You might even find yourself surprised at the sheer range of what's available, from relatively basic budget models all the way up to impressively detailed little replicas.
There are several ways to go with it – you can get him a miniature version of his current car if he's particularly fond of it, or go the other way and get him a mini supercar or hypercar to gaze at longingly. (If nothing else, it could be the foxiest paperweight he ever owns.)
Or, of course, you could even choose a disassembled model, possibly from something as universal as Lego or Meccano, giving him the satisfaction of building it himself.

A toolbox or interior car kit
If your dad is particularly mechanically minded, or if he simply takes pride in keeping his car clean, he might just love receiving the right tools to help him do exactly that. Whether he's polishing the family car to a shine, or he's fixing up a salvage vehicle, or he's putting the finishing touches on a treasured classic car, there are all sorts of handy tools and cleaning kits you can buy him. It helps if you've got some mechanical knowledge yourself, as it can give you a useful head-start in terms of choosing what to buy. And of course, if you like having a bit of a laugh (but without sacrificing the quality of his present), you could even get him a chocolate spanner. You can get lots that look surprisingly realistic!
Quality car shows, days out, and experiences
Now that we're gradually coming out of the last remaining lockdown restrictions (as of the time of writing, anyway), there are quite a lot of events on throughout the year for you to attend with your dad, allowing him to enjoy the highs of the British summertime, with glorious sunshine and equally glorious motors. If he classes himself as more of a classic cars connoisseur, he might enjoy a trip to the Father's Day Motor Show at Castle Howard, or the London Classic Motor Show, both towards the end of June. Alternatively, if he can stand to wait a bit longer, you can present him with tickets to the Goodwood Revival of Speed, one of the most prestigious shows of its kind, held in September of each year.
But if your dad feels the need (i.e. the need for speed) then why not take him for a more high-octane day out? A top-speed jaunt along one of the UK's favourite racetracks should do the trick – get him in the driving seat and let him put a car through its paces! Prices for the Grand Prix Circuit at Silverstone start at about £300, while at Rockingham Motor Speedway it's a little more budget friendly at £175. Sure, it's not quite as affordable as a diecast model of his Mercedes, but if you've got the capital, or you can persuade some siblings to club in, you can give him a truly unforgettable birthday.

Car themed cufflinks, and other cool clothes and accessories
Car themed cufflinks are a neat little personalised present if your dad likes to wear his passion on his sleeve. (Pun mercilessly intended.) But not every car-themed addition to his personal wardrobe has to be quite so flash – he might be just as happy with a branded jacket from his favourite marque or Formula One team. Come to think of it, you might also want to consider the official Formula One t-shirts from the F1 store. Alternatively, just a pair of cosy socks might do him just fine.
Of course, if you've got the budget, you could even go for gold with an automotive-themed luxury watch. Some top-tier brands are famed for their long association with motorsport, such as Tag Heuer or Chopard, both of which are well-known for releasing timepieces that are specifically designed to emulate all the excitement, passion and pulse-racing intensity of the sport (not to mention its heritage, history and culture too).
Now, we know that a luxury certainly commands a higher price-tag than our other suggestions, with most models from brands like this easily running into four figures. Once again, it might be most viable for you if you're able to club together with some siblings. And sure, it may be an investment, but it's one that he'll treasure for decades to come.
Ultimately, you're the best person to decide which of these suggestions best fit your budget – so we'll leave the specifics up to you! We'll stick to doing what we do best: getting you the very best price when you scrap your car with us. All you need to do is enter your car reg and postcode into the fields on our site, and we'll get you an instant online quote before you can say cash for cars. It only takes a few seconds. Curious to find out how much your car is worth?