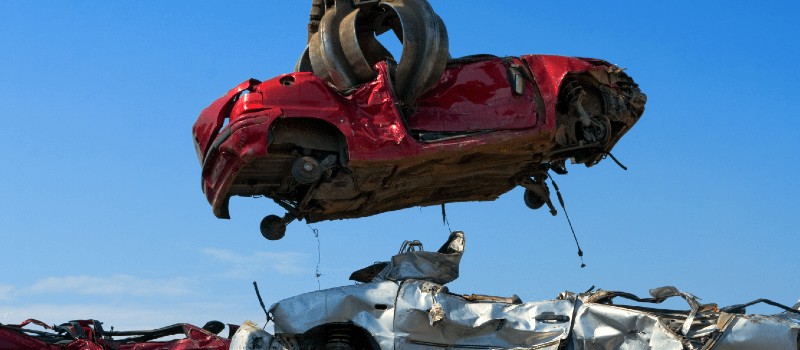 Can I check if a car has already been scrapped?
13th Aug, 2021
Buying a used car can be a lengthy but highly satisfying experience, especially when you succeed in getting yourself a particular bargain. Before you can get to that stage though, you'll need to ensure you've done all your due diligence with regard to the car's history – perhaps the most intensive but worthwhile part of the entire process. Most importantly, it's crucial to make sure that the car has not previously been scrapped.
By definition, a scrapped car is one that's regarded as too damaged or dangerous to drive, and the law mandates that it should never be put back on the roads. Some scrapped cars are useful as a source of spare parts, but very little beyond that. You should certainly never get behind the wheel of one if any of its former owners have ever thought – I need to scrap my car.
Unfortunately, every year there are countless people who are duped into doing just that. According to the RAC, about 1 in 250 cars are sold after being scrapped, so while the chances of driving one are still relatively slim, it's not outside the realms of possibility. Previously scrapped cars can pose a huge risk to the health and safety of their drivers, so here are some of the most reliable ways to ensure you don't end up becoming one of them. First though, a quick clarification…
Is a scrapped car the same as a written-off car?
Almost, but not quite. 'Scrapped' and 'written off' are both legal definitions that can be applied to a car, either by the DVLA or by an insurer. Writing off a car is purely a financial decision; a car is written off when an insurer deems it to be uneconomical to repair. In other words, when the cost of repairs will be more than the total value of the car.
Written-off cars are not automatically resigned to the scrap yard, and can still potentially be repaired. In fact, many of them are indeed returned to the road, either because their owners were happy to pay for the damage – as is often the case with cars that have sentimental value – or because the damage itself is very minor or cosmetic.
A scrapped car, on the other hand, cannot ever be repaired to a standard that would make it safe to put back on the roads. Unlike some write-offs, the decision to scrap a car isn't one that's based on economics, or what makes financial sense. Instead, it's entirely a matter of safety, pure and simple. So while some written-off cars can be driven again, you should never knowingly drive a scrapped car; it's far too dangerous.
It might not seem like the most straightforward thing in the world initially, but make sure you know the difference – it makes a huge difference to your safety!
So, with that cleared up, here's how to ensure your prospective purchase hasn't been scrapped before.

1. Get an HPI check
This is without a doubt one of the most widely-used and reliable ways to check the history of your car. HPI (which stands for Hire Purchase Information) is a vehicle history checking service that goes into extensive depth about each car's history, working closely with organisations like the police, DVLA, finance companies and insurance companies to build a comprehensive picture of your car's history. It's got an excellent track record too; it uncovers more than 2200 cars that are unannounced insurance write-offs. It's not a free service, but it's certainly excellent for providing peace of mind.
2. Check with the DVLA
You know who tends to know quite a lot about car records? Yup, the Drivers and Vehicle Licensing agency. (It's literally their reason for being, after all!) Checking the DVLA's database is quite simple – you can just go straight to this form on the government website.
If you'd prefer, there's no shortage of third-party companies who can ask the DVLA on your behalf, and even do some of the admin heavy lifting for you, too. One of their main approaches will be to ask the DVLA if they have any record of the car's Certificate of Destruction, which is a legal document proving that the car has been scrapped. Ideally, there shouldn't be – if they manage to find one for you, that means the car is a lemon, and a dangerous one too.
2. Check with the RAC
The RAC (once known as the Royal Automobile Club) is another excellent source if you want a detailed history of your car. The organisation prides itself on being able to offer a fully comprehensive vehicle check that spans the basics (such as whether your car's been stolen), all the way up to more in-depth checks, such as whether the car has any existing finance on it. The service isn't free, but it is very thorough, so it's worth factoring into your budget for your potential new purchase, for complete peace of mind.
These are far from the only options available to you, but they're certainly some of the most widely available and easy to use. And from the other side of the fence, one of the best ways to ensure that your own car doesn't end up in this situation is to make absolutely sure that you get that all-important Certificate of Destruction, which frees you from any legal responsibility for your car.
As with all other legal documents, it's something we take care not to mess you about with here at Scrap Car Network. In fact, when you choose us to scrap your car, we'll focus on making the entire process as quick and simple for you as possible. All you need to do is enter your car reg and postcode into the fields on our site, and we'll get you an instant online quote before you can say cash for cars. It only takes a few seconds. Curious to find out how much your car is worth?