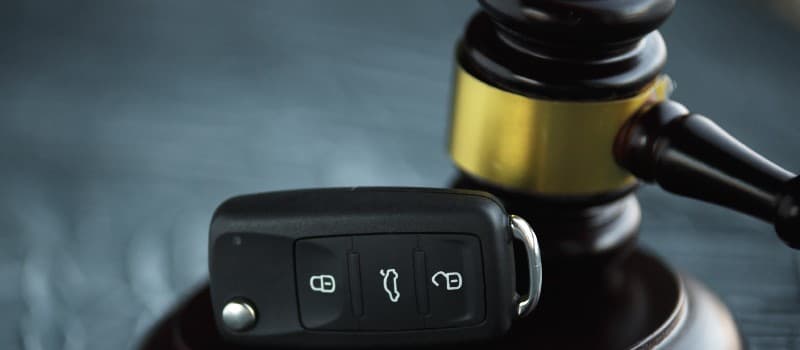 Are you clued up on the new driving laws coming in 2023?
13th Jan, 2023
We're now a couple of weeks in to a brand new year – and a couple of things are already looking set to change for drivers in the next 12 months or so. Now obviously, one thing you can be sure of is that here at Scrap Car Network we'll always be around to provide you with the very best prices when you scrap your car. But when it comes to the Highway Code and various driving laws, things tend to be a bit more… well, fluid.
So to help you avoid any annoying fines, we've rounded up five of the most important changes to get up to speed on in 2023.
1. Fuel duty rate to change in 2023
One of the biggest issues for drivers at the moment is – obviously – the price of fuel, although it's settled a bit from its eye-watering peak of July 2022 (when it hit 191.53p per litre for petrol and 199.05p for diesel).
The fuel duty was last adjusted in March 2022, when fuel prices were proving exceptionally volatile. Then-chancellor Rishi Sunak implemented a 5p cut in fuel duty in an effort to help struggling families manage the soaring price of fuel. It was always going to be temporary though, and on March 23rd 2023 this reduction will end. The Office for Budget Responsibility has already strongly hinted that it might actually increase. We don't know for certain by exactly how much yet though – we'll have to wait until Chancellor Jeremy Hunt's Spring Budget to find out.
2. Pavement parking ban in 2023
After an initial delay, from 2023 onwards Scotland is introducing its ban on pavement parking, and parking on dropped kerbs. The move was first announced back in 2019, but then it was delayed due to a certain pandemic. In 2021, Scotland's transport secretary Michael Matheson said that the ban wouldn't be enforced until 2023, while various assessments were completed.
Those assessments have now all been concluded, and from now on drivers will have to be wary not to park on pavements and dropped kerbs, with authorities empowered to dispense heavy fines to anyone caught doing it.
3. The expansion of the ULEZ
By now, you probably know the basics of London's Ultra Low Emissions Zone, especially as we've discussed it more than once here on the blog at Scrap Car Network. If you need a quick refresher, essentially the ULEZ discourages the oldest and most heavily polluting vehicles from certain areas of the city by imposing increased taxes on them at certain times of day. It's part of a bid to improve air quality across the capital, an issue that contributes to an estimated tens of tens of thousands of people every year.
From August 2023, the boundaries of the ULEZ will be expanded. Right now, it covers all areas within the North and South Circular roads, but in the summer of this year, that will expand to encompass all of capital's 33 boroughs.
Vehicles that don't meet the minimum emissions standards of the ULEZ will find themselves saddled with a £12.50 daily charge. That charge applies to cars, motorcycles, vans, minibuses, and specialist vehicles (weighing up to and including 3.5 tonnes).
4. Pedestrians get right of way in new 'road hierarchy'
This was one of the major changes to the Highway Code in 2022. Sometimes referred to as the new 'H rules', the main principle of the new road hierarchy is essentially to protect more vulnerable road users.
To quickly explain how it works: pedestrians are at the top of this road hierarchy. The next segment consists of cyclists, horse riders, and motorcyclists. The segment below them encompasses car and van drivers, and the bottom segment includes bus and lorry drivers. The overarching idea is that road users in the highest segment of the road hierarchy are the most vulnerable and need the most protection, so the lower you are in the hierarchy, the more harm you and your vehicle have the potential to cause.
Therefore, the new H rules place the greatest responsibility on car drivers and HGV drivers to be the most aware of their surroundings (although obviously everyone bears that responsibility to some degree). The new rules have led to a variety of smaller knock-on changes – for example, pedestrians now have right of way at junctions. Some drivers might take a while to bear that in mind!
5. The red X on smart motorways
Now, there have been concerns about the efficiency and safety of smart motorways themselves (which we'll cover in more detail in a future blog this month). However, they're certainly not going anywhere for now, and the red X is one of those things that many drivers seem to be getting wrong, either deliberately or on purpose.
If you see a red X displayed on an overhead motorway gantry, it's basically telling you to move into another lane. It's intended to effectively close a lane, which can happen if someone's working in the road, or if there's been a breakdown, or if there's another type of obstruction.
That means drivers who fail to acknowledge it could be putting themselves and others at risk of a potentially fatal collision – so it makes sense that the penalty is £100 fine and three points on their licence. No driver can drive in a closed lane until a sign says it's all clear – so watch out for that one!
Those are all the biggest ones – but it's worth keeping an eye on the headlines throughout the year, just in case! Whatever else happens though, you can always rely on us to provide you with the very best prices when you scrap your car with us, right here at Scrap Car Network. All you have to do is enter your car reg and postcode into the fields on our homepage, and we'll provide you with a free, no-obligation instant scrap car quote!
Curious to see how much your car is worth?