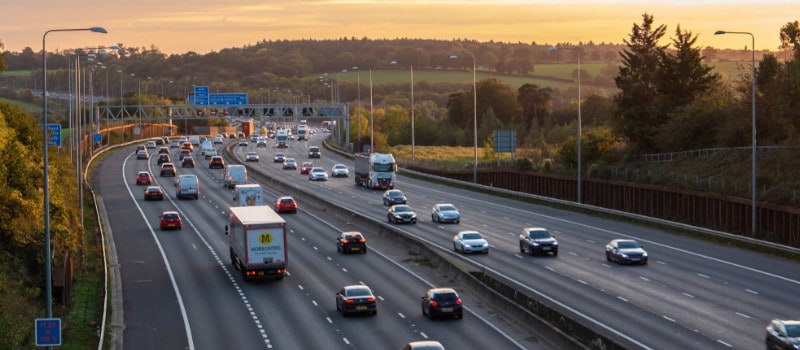 60mph speed limit introduced along four major UK highways
26th Oct, 2020
A possibly controversial change has just been made on some of England's busiest stretches of motorway. In the last few weeks, Highways England has lowered speed limits from 70mph to 60mph on highways running through major urban centres across the Midlands and North of England.
The ultimate aim is to improve the country's overall air quality by cutting down on roadside emissions of waste gases – especially nitrogen dioxide, otherwise known as NO2. It belongs to a group of gases called nitrogen oxides. Road transport is thought to be responsible for around half of total emissions of nitrogen oxides, and successfully bringing down NO2 levels would be a significant step in addressing some of England's highest levels of air pollution, which is linked to an estimated 40,000 deaths every year.
(That's a goal we can really get behind right here at Scrap Car Network. We're passionate about environmental causes ourselves, and do everything we can to make our car recycling processes as efficient as possible when we scrap your car with us!)
So, you're probably asking, how will all this work?
Where are the new speed limits being introduced?
The new 60mph limits are being rolled out over the following four highways:
The M6 between Junction 6 and Junction 7, near Birmingham
The M1 between Junction 33 and 34, at Rotherham in South Yorkshire
The M602 between Junction 1 and Junction 3, near Eccles in Greater Manchester
The M5 between Junction 1 and Junction 2, at Oldbury in the West Midlands
In case you're wondering how they were chosen, it's essentially because they're all very busy roads that run alongside large urban areas, and have consistently exhibited the highest levels of nitrogen oxides in the country.
Drivers who ignore the new limits will have to contend with the risk of a £100 fine, and 3 penalty points on their licence. These new limits will be in place for at least a year – a spokesperson for Highways England has stated that if that time elapses and "they're not having the desired impact, then we'll remove them and look at other ways to tackle air quality in that area."
If the trial is successful though, they've made it clear that they intend to keep the new speed restrictions in place until cleaner cars start to make up the majority of vehicles on UK roads.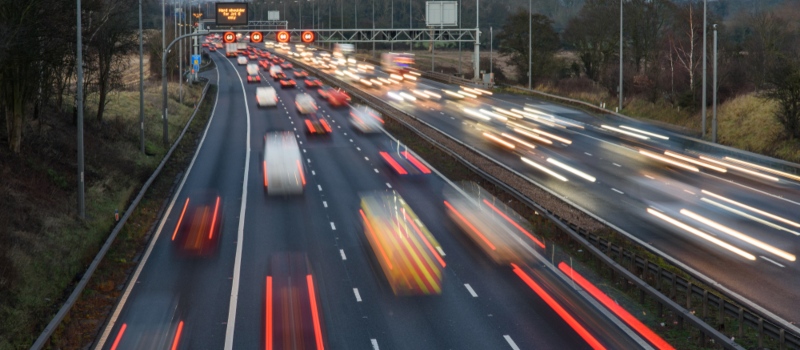 How 60mph limits have lowered emissions already
Let's be honest, this isn't going to be welcome news for lots of people, especially for those of us who are known to nudge ourselves slightly over the limit occasionally.
But like it or not, the new measures are probably here to stay for the foreseeable. Highways England say that initial assessments show that 60mph limits led to an average 17% reduction in emissions in England, and similar measures have already basically halved pollution in several stretches of motorway Wales.
Specifically, following a Freedom of Information Request by Highways Magazine found, records revealed that in areas where the limit was lowered to 50mph, toxic emissions dropped by as much as 47%.
Of course, that change wasn't instantaneous. Predictably, drivers often disregarded the new limits when they were first introduced on five Welsh highways in June 2018, but it wasn't long before enforcement measures were implemented alongside them. Speed cameras and average speed checks ensured compliance amongst motorists, ultimately leading to the impressive 47% drop in emissions.
Having said all that, of course, there's a balance to be struck for Highways England. The organisation acknowledged the need to ensure that these targeted speed reductions are capable of effectively reducing emissions without leading to unnecessary congestion, which of course will end up lowering the air quality anyway. It's a difficult balancing act, and to be honest, rather them than us!
We'll happily admit that urban planning isn't our forte here at Scrap Car Network. What we are good at, though, is getting you the very best price when you scrap your car. All you need to do is enter your car reg and postcode into the fields on our site, and we'll get you an instant online quote before you can say cash for cars. It only takes a few seconds… curious to find out how much your car is worth?