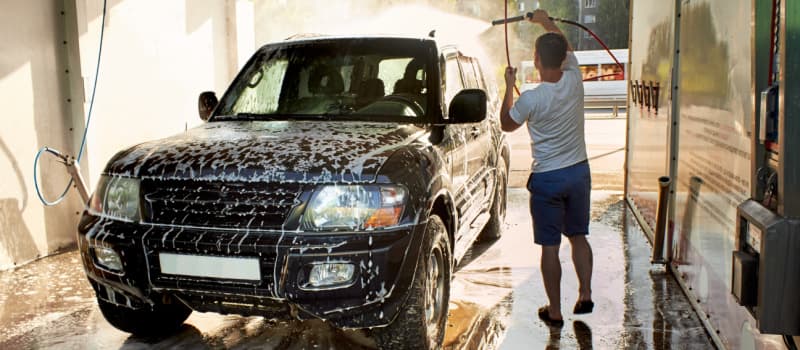 5 key steps to an easy spring clean of your car
9th Mar, 2023
Spring is in the air! Not that you'd know it by looking out the window, of course. (Snow in March often feels like a bit of a kick in the teeth, doesn't it?) Happily, the weather is due to warm up soon – properly warm up – and that means you might be thinking about a spring clean of your car.
Now, we like to make things easy for you here at Scrap Car Network, especially when you decide: I need to scrap my car. So, in the spirit of keeping life simple, here are some of our top tips to helping you enjoy an easy spring clean of your car!
Don't scratch the paintwork
Over time, your car's exterior tends to pick up a lot of detritus when driving. Grime, oil, dirt, particulate, grit, tyre rubber and salt are all amongst some of the things that end up clinging to your paintwork. However, don't be too quick with the sponge and the soapy water – if you start scrubbing immediately, you could effectively just end up rubbing dirt into your car's paintwork, which can easily end up scratching it.
Instead, give it a quick hose down first. You can use your garden hose for this, or a pressure washer if you've got one – just be sure not to stand too close, as you don't want to damage your paintwork that way either!
Get a clear view
Light rain and dirty windscreen wipers can often be a recipe for smearing dirt over your windscreen when driving, and that can sometimes make it just as dangerous as not using them at all.
Of course, your windscreen wipers might need replacing completely. But before you do that, try adding a bit of rubbing alcohol onto them – you might be surprised at how well that sorts out the problem! As for your other windows around the sides of your car, a glass cleaner and microfibre cloth should be all you need to get the job done.
See the light
You don't need to be an expert to know that clean headlights are crucial to avoiding a crash. If your headlights are dim or obscured by dirt and grime, it can lead to confusion from other drivers – not to mention that you might not be able to see far enough ahead of you in dark environments.
However, it's a big issue with a thankfully simple solution; just putting a bit of toothpaste on a cloth and applying that to your headlights can immediately clear off the worst of the dust and grime. It's the baking soda in the toothpaste which is doing most of the heavy lifting!
A brush with air vents
Out of all the little nooks and crannies in your car, air vents are some of the top places where things can get particularly grimy. Since they're narrow and gated, they're particularly tricky to clean, and that means they can play host to a whole build-up of dirt and gunk.
What you need is a brush. It doesn't have to be anything particularly specialised – an old paint brush or cheap foam art brush can do the job just fine. (A toothbrush can be useful too.) Really get in there with it, and you might be surprised at how much more powerful and efficient your air vents seem afterwards!
Sorting out those little crevices
If you've ever given up on cleaning your car, we're willing to bet it's the cleaning in the hard-to-reach spots that's finally done it. The narrow crevices around gear sticks, window controls and radios are all particularly common culprits. However, if you've got even a couple of basic DIY tools around the house, you can sort this out surprisingly easily. Just wrap a small cloth or rag around the head of a small screwdriver, and use that to lever your way into the tricky spots. Again, a damp toothbrush or fine wire brush can also help you to achieve similarly efficient results.
Those are just a couple of our top tips – you might well have a couple of your own! And of course, if your car ever gets beyond the stage of simply being a bit unclean, and too many expensive mechanical problems start cropping up, that's where we can help here at Scrap Car Network. We're dedicated to helping you get the very best price when you scrap your car with us. Just enter your car reg and postcode to the fields on our site, and we'll get you the best price in seconds. Go on… curious to find out how much your car is worth?