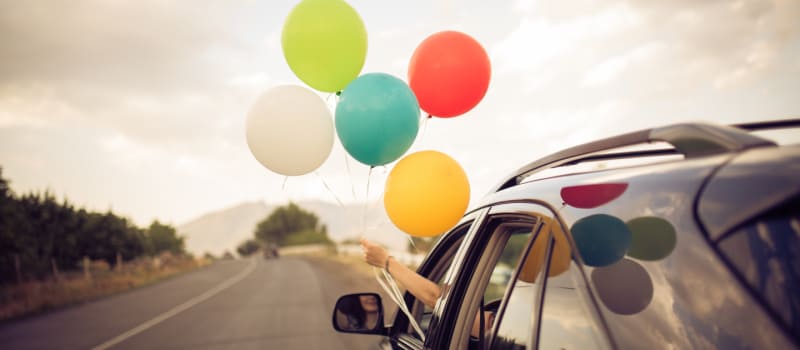 4 things you need to do after your car's first birthday
29th Mar, 2023
When your car's first birthday rolls around, you might not have traditional birthday presents planned (what's it going to do with a cake, anyway?). But you can prepare the next best thing – a couple of quick maintenance tasks that will keep it running smoothly for the foreseeable future. Of course, there may come a time way down the line where you might be thinking it's time to scrap my car, but until then here are a few small maintenance tasks you can do after owning your car for a year to ensure it remains reliable for the year to come.
Change your oil
Your car's first birthday can be useful as a memorable date to check its oil levels. Your car's engine oil needs to be changed every three to six months, or as recommended by the manufacturer. Check your oil level regularly to make sure it's not low, and if it is, add oil as needed. If you suspect that your oil is leaking from somewhere, then the first thing to do is to slot a piece of cardboard underneath where you think the leak is seeping from, and leave it overnight. Check it first thing in the morning. If it's dry, you'll probably be OK, but it's never a bad idea to check it into a garage just in case you aren't sure. Nobody wants to discover they were wrong about a leak at 70mph!
Battery
Check your car's battery for any signs of corrosion, damage, or wear. You can also take it to a mechanic for a battery test to ensure it's holding a charge. Your car's battery is responsible for providing the initial electrical charge needed to start the engine. If the battery is weak or dead, your car may not start, leaving you stranded. By regularly checking your car battery, you can avoid unexpected breakdowns and potential safety hazards. For example, a dead battery could cause your car to stall while driving, which could be dangerous if you're on a busy road.
Check the tyres
Check the air pressure in your tyres regularly and make sure they're wearing evenly. Rotate them every six months to ensure that they wear evenly and last longer. If left unattended for too long, a dodgy tyre can pose serious risks – not just to your wallet, but also your safety, and that of other road users around you. The most common issues can include things like tyres being underinflated or overinflated, worn out treads, cracks and punctures. A good way of ensuring your tyre tread is up to scratch is to use a 20p piece – we covered what you need to do in our post on how to prepare for an MOT test.
Assess your brakes
Check your brakes for any signs of wear, including squeaking or grinding noises. If you notice any issues, take your car to a mechanic immediately. Problems with your brakes are generally pretty obvious, but if you're concerned, then a few signs to look out for include:
Abnormal grinding/screeching sounds
A vibrating brake pedal
A burning smell emitting from near your tyres
Brake warning light (obviously)
You know the drill: if you suspect any issues with your brakes, get them sorted as quickly as possible. Nobody loves a life-or-death situation on their morning commute.
Once you've checked that all of these aspects are in full working order, you're good to go! Regardless of whatever happens in the meantime though, you can count on us to provide you with the very best prices should you ever need to scrap your car with us. Don't just take our word for it – get an instant online quote today! It's free, and there's zero obligation until you decide you're ready to proceed. Just enter your car reg and postcode into the fields on our site, and within seconds you'll be looking at your very own instant online quote. Ready to find out how much your car is worth?