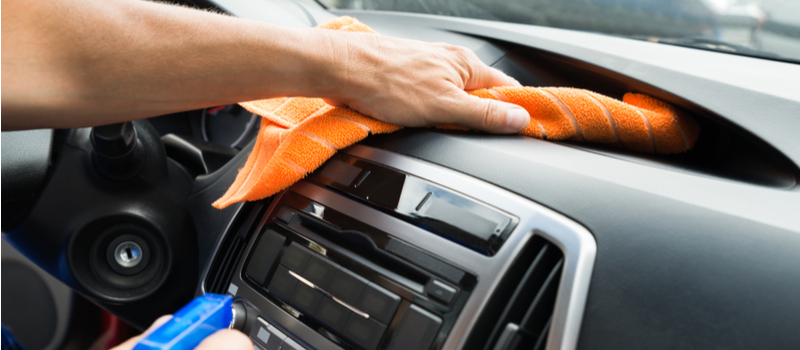 4 steps to easily spring clean your car
18th Apr, 2019
When we talk about spring cleaning, the first thing that probably comes to mind is your house. But lots of us all spend a fair amount of time in our cars, too – they need a good spring cleaning as well! It's an easy task to put off, especially if you're cleaning the house as well, but it's easier than you might think – take it step by step!
1. Clear out the clutter
This can be a bigger job for some people more than others, depending on the size of your car and what you use it for! Parents especially often find that stuff has a way of rapidly piling up. Toys, paperwork and even bits of food (eurgh) can end up being stuffed in the door pockets, trodden underfoot in the footwells, or squashed between seats. Before you can get properly in there to clean up the nitty-gritty bits of dust and grime, all that stuff is going to have to go first. Don some gloves if you have to, but make sure you're ruthless with it all. Unless an item is specifically for the car, you'll want to take it indoors, or throw it away. In the case of paperwork and similar, you should try and recycle it wherever possible (we've very big on recycling here at Scrap Car Network!). And don't forget the boot!
2. Get handy with the hoover, and devoted with the duster
Once all the bigger stuff is gone, you're ready to break out the hoover. Dustbusters are always helpful if you've got one, but if not, it's worth attempting to find an extension lead for your regular hoover, and just running it from the house. Footwells, door pockets, cupholders and charge holders should all be top of your list. Plus, you'll want to lift up the floor mats (even if it's against your better judgement), as you might be surprised at how much can get trapped under there! If you're having trouble with some bits of dirt or dust in particular, a good trick is to put a bit of cloth or a rag around the head of a screwdriver, and this point to mine the nooks, crannies and crevices you might otherwise be struggling to reach.
3. Make the exterior squeaky clean
Winter can be a tough time for your car, as there's all sorts of mud, grit and salt that can be flung up onto your car's paint job. Taking it to a car wash can easily get rid of the worst of it – or you can do the job yourself at home. After all, if you've taken all that time and effort to get the interior looking good, why wouldn't you do the same for the outside, too? While you're at it, it's never a bad idea to give your car a quick wax, either, as this strengthens the paint and gives it more protection going forward.

4. Take a moment to reflect on your mirrors and windows
Amongst all the hassle of tackling the interior of the car, these can be surprisingly easy to miss for some people, but they're perhaps the most important element of your car to regularly clean. Unless your windscreen and rear window are clear, and your mirrors unobscured, you run the risk of limiting your vision. This is not only illegal, but can easily lead to accidents. Water alone won't do the trick here – you'll want to use a proper window cleaner, and make sure to clean them both inside and out!
All in all, a good spring clean will help your car look its best in time for sunnier weather. For some types of damage, however, no amount of cleaning can help – it might be time to scrap your car! Luckily, that's where we come in here at Scrap Car Network. All we need is your car reg and postcode to get you the best scrap car prices. It's never been easier!