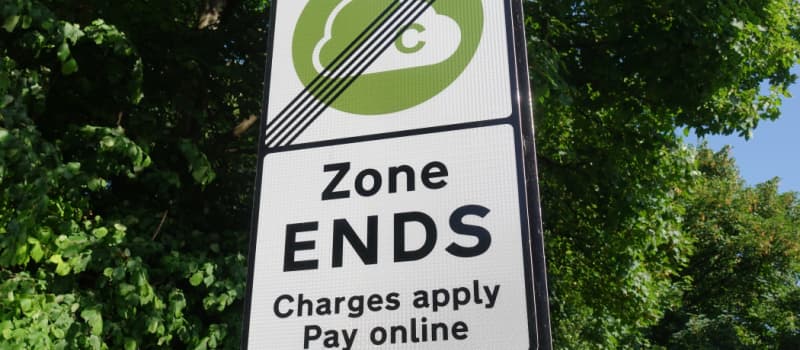 What does the expansion of ULEZ mean for my car?
22nd Sep, 2023
What is the ULEZ and why has it recently expanded in London? 
At Scrap Car Network, aside from providing the best platform to scrap your car, we're also committed to keeping our customers in the know when it comes to the latest updates in the world of motoring, and today we're bringing you updates on everything you need to know about ULEZ.
The Ultra Low Emission Zone (ULEZ) is a designated area in London where drivers of vehicles that don't meet specific emission standards must pay a daily charge to drive in the zone. It's this expansion that's leading a lot of people to consider scrapping their vehicle with the ULEZ scrappage scheme in a bid to save money and be more environmentally friendly. 
ULEZ aims to reduce pollution and improve air quality, especially in congested urban areas. It was first introduced in 2019, covering most of Central London but stopping just shy of the North and South Circular roads. However, all that has changed recently; as of 29th August, the ULEZ has significantly expanded to bring an additional five million Londoners under its coverage. London Mayor Sadiq Khan states that the expansion is due to a rise in the number of residents at risk of developing dementia and dying prematurely from lung conditions. As a result, the ULEZ now includes all 32 boroughs of London and even extends to the surrounding counties of Surrey, Essex, Hertfordshire, Kent, Berkshire, and Buckinghamshire.
London isn't the only city to introduce these environmentally conscious low-emission zones; Birmingham, Bristol, Oxford, Glasgow, Bath, Bradford and Portsmouth all have some variation of a low-emission zone in which similar measures apply for drivers. 
Does my vehicle meet ULEZ standards?
To remain unaffected, your vehicle must meet specific emissions standards, including low nitrogen oxide (NOx) levels. Drivers whose vehicles don't meet these standards are subject to a daily fee, which varies from city to city. In some cities, such as Glasgow, cars that do not meet the standard are forbidden to enter the zone under any circumstances and face a penalty of £60 if they do.
But when it comes to the expansion of London's ULEZ zone, the government maintains that 'nine out of ten cars seen driving in outer London on an average day meet the standards, meaning their drivers won't be affected'. 
For the vast majority of low emission zones (LEZ) including London, Bristol and Birmingham petrol vehicles must meet Euro 4 standards for NOx emissions, while diesel vehicles must meet Euro 6 standards for NOx and particulate matter (PM) emissions. Compliance goes off a vehicle's declared emissions, not its age. Typically though, petrol cars meeting these standards were first registered after 2005 (although compliant ULEZ cars have been available since 2001), and diesel cars meeting the standards were generally first registered after September 2015. 
Examples of the vehicles that meet the emissions standards include:
Volkswagen Golf

Toyota Prius

Honda Jazz

Audi A3

Ford Fiesta 

Suzuki Swift 

Nissan Leaf

Skoda Octavia 
However, if you live in London and your vehicle is not on this list, and now you're unsure whether your car or vehicle meets the standards, you can get the answers you need by using the Transport of London vehicle checker.  
The ULEZ Scrappage Scheme 
With the dramatic expansion of the ULEZ in London, Sadiq Khan announced a £160m budget for a scrappage scheme to aid drivers in scrapping their non-compliant cars. All eligible Londoners with non-compliant vehicles can seek grant funding, including increased support for scrapping vans, minibuses, and wheelchair-accessible vehicles for one month after the expansion. However, after this timeline comes to an end, drivers will no longer receive assistance from the government to scrap their cars. 
Whether you live in London, Birmingham, Bristol, Glasgow, or any other city we mentioned earlier, you can trust us at Scrap Car Network to help you get the best value for your car whenever you decide to scrap it. We'll assist you in finding a deal that suits your timelines and your wallet completely hassle-free, regardless of location. 
So, you can always rest assured that if you ever decide to 'scrap my car,' we're here to help. You can get an instant online quote for free; there's no obligation until you are ready to proceed. Simply input your car registration number and postcode on our website, and within seconds, you will receive your own personal instant online quote. We'll take care of all legal stuff and send you the certificate of destruction to avoid you getting an £80.00 fine. Curious to know the value of your car? Get your quote today!