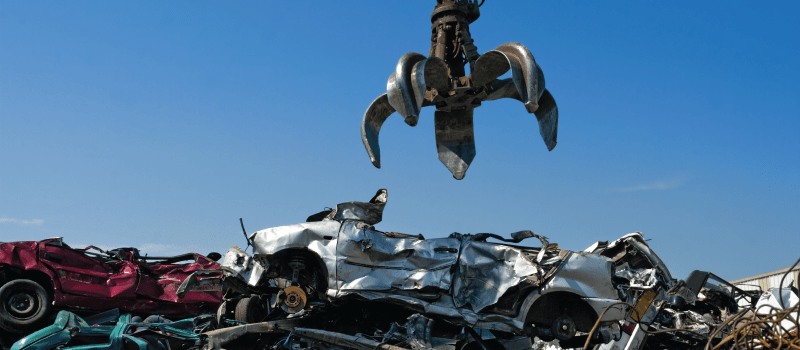 We scrap specialist vehicles – from hearses to Reliant Robins!
25th Mar, 2019
We process far more than just the regular four wheeled vehicles here at Scrap Car Network – over the years we've also had some interesting vehicles from more specialist trades too, such as agriculture and construction. Here are some of the more unusual vehicles that we often receive, which might end up alongside yours one day on the scrap yard!
Scrap Tractors, excavators and diggers
For those who ever find themselves saying 'I wonder who can help me scrap my tractor', then you finally have your answer – it's us, right here at Scrap Car Network. If you've ever lived on a farm yourself, you may already know that old farm machinery (such as an End of Life tractor) is often quite lucrative when the time comes to scrap it. This is mostly because they're so heavy, and scrap value is calculated largely on weight. Tyres are a particularly lucrative part that can be removed and recycled.

If you've not got any experience of farms, on the other hand, you might be surprised to know that what kills most tractors in the end is reasonably mundane; it's often caused by fuel and oil breakdown residue. Corrosion tends to build up in the fuel injectors, pumps and storage tanks, leading to a sludge build-up, and if the issue is frequent enough (or left unchecked), the tractor will eventually putter to a stop. Small excavators and diggers fall into broadly the same category, although like tractors, it's generally quite a long time before they finally fall into irreparable disrepair.
Scrap Limos and hearses
You'll be pleased to hear that limousines are legally held to very high standards – as they should be, since they're technically public transport vehicles. Every limo has to earn its COIF (Certificate of Initial Fitness) before it's allowed to drive on the roads, never mind take on passengers. In fact, without its COIF, it can't even pass its MOT. Unless they're T-boned by an unwitting motorist, or the driver misjudges a particularly sharp turn, most limos have reasonably long lifespans mechanically. It's mainly the interiors which quickly start to show their age!
Generally, the main passengers in hearses are notably less fussy about the overall state of the car, but that doesn't mean that these don't get held to high standards either. They're technically public service vehicles too, and since the ceremonies they're involved in are highly emotionally charged affairs, it would be unforgivable for one to be late or not show up due to a mechanical fault. That means the moment they start to show signs of being unreliable in the long-term, most funeral directors won't take the risk, so at that point they either sell them on or think "I need to scrap my hearse", so they come to us here at Scrap Car Network.
Scrapping Three wheelers
Made famous by the wheeler-dealer Trotter boys in Only Fools and Horses, 3-wheeled vehicles are mostly seen as a novelty here in the UK. Many of the most iconic models, such as the Reliant Robin, are viewed as prized collector's possessions by their owners, so there's still a sizeable market for them, even if they're not in a driveable condition. There are plenty more three-wheelers, though, that some people are quite happy to use for everyday runarounds, which means they eventually end up with us. While these types of vehicles aren't quite as lucrative as tractors or limos, they can end up fetching a tidy sum, so if you're wondering "how can I scrap a three wheeler", we have a very obvious answer for you!
We've made a conscious effort to make it as easy as possible for you to scrap your vehicle with us, no matter what it may be! We minimise all the time, paperwork and effort involved – all you have to do is enter your car reg and postcode into the fields on top of this page, and you'll have an instant online valuation of your car. It's never been easier!