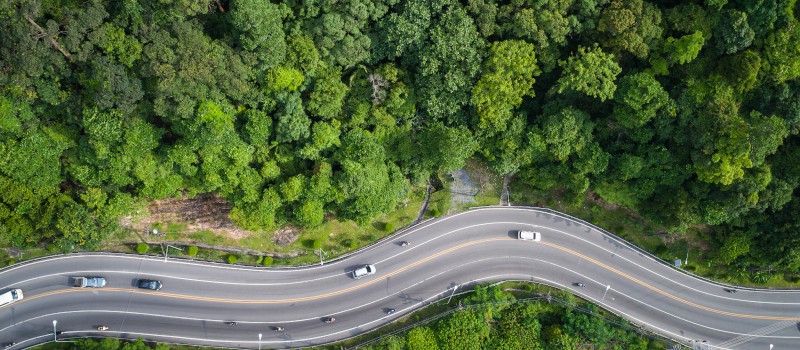 The top 5 most scenic drives right here in the UK
25th Aug, 2020
A summer holiday is supposed to be a relaxing experience, but for hundreds of thousands of us, organising one in 2020 has been an almost uniquely stressful experience. Changing travel restrictions, evolving international situations and the still-present threat of Covid-19 (or coronavirus) has thrown countless travel plans into chaos.
The urge to finally get abroad is understandable, especially since the stringent measures imposed over lockdown in spring. But in the midst of our yearning to get overseas, it can be easy to forget that there's actually plenty of sights to see and places to explore right here in the UK – especially if you've got a car to get there. As the home of the best place to scrap your car, we know a thing or two about driving ourselves, so we've rounded up four of our top suggestions for scenic drives around the UK.
Snake Pass, Peak District
When it first opened in 1821, Snake Pass (as it's come to be known) was the officially signposted route across the Pennines between Manchester and Sheffield. There's no doubt it's a stunningly beautiful drive, but it's worth saying that you do have to take care while out on the road, as the same things that make it so beautiful are also what make it quite risky – expect plenty of curves, bends and adverse cambers.
It's still one of the UK's greatest mountain passes, hitting a high point of 510m above sea level. Plus in the summer, heather is known to bloom on the surrounding hills, illuminating the place with an extra layer of glorious natural beauty. But don't forget to keep an eye out for the cyclists who'll be out there enjoying it too!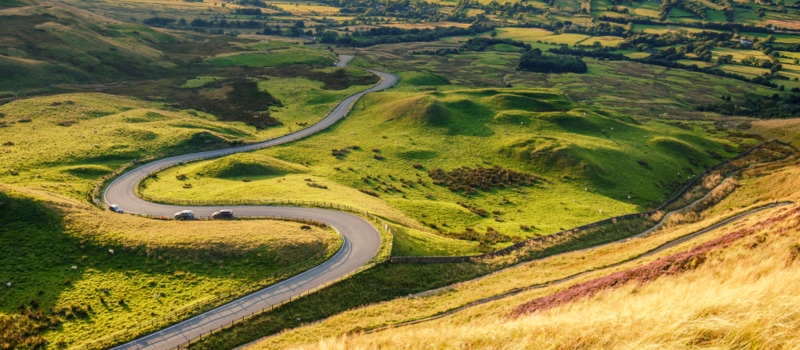 The Witches Driving Trail, Lancashire
This mysterious trail winds through the Forest of Bowland, an ancient hunting ground where wolves and wild boar once roamed. Centuries ago in 1612, the 45-mile trail was walked by the ten doomed Pendle Witches, who were on their way to be imprisoned, tried and ultimately executed for their supposed arcane practices. The trail begins in Clitheroe, and brings you over the Trough of Bowland from Pendle, allowing you to revel in the splendour of an officially designated Area of Outstanding Beauty. The Witches Driving Trail offers a tempting combination of history, mystery and no small amount of natural grandeur. It's definitely worth a look!
Kendal to Keswick, Cumbria
While the name of the A591 might not have quite the same dark allure as our previous entries so far, it's still one of England's favourite scenic routes. It takes drivers on a winding 30-mile journey between two of the Lake District's most popular towns, allowing them to drink in the world-famous beauty of the region's scenery and enjoy the charm of smaller destinations like Grasmere, Ullswater and Glenridding along the way.
And in case you needed to be sold any more on the idea, this one has got something unique going for it – it's scientifically proven to be the best drive in Britain, according to a maths formula devised by a quantum physicist.
Back in 2015, car rental company Avis assembled a crack team comprising said quantum physicist, an F1 track designer, and a roller coaster designer. Together they concluded that the route has the "optimum balance" between exhilarating speed and acceleration, corners that test your driving capabilities, and long stretches that allow you to enjoy the scenery. Their words, not ours. And who are we to argue?
Wrynose and Hardknott Pass
If you're a fan of the sorts of challenges offered by Snake Pass, the journey over these tough but rewarding passes might just be for you. It's perhaps not one to try out on an older car, as it's one of the steepest roads in England, with gradients that are as steep as 1 in 3 at some points. (Easily enough to defeat a vehicle that's approaching the end of its life!) But once you're up there, oh boy. There are some truly stunning views to enjoy, including those from the Three Shire Stone, which marks the meeting point of the historic counties of Cumberland, Lancashire and Westmorland.
Between the village of Eskdale and Ambleside, you'll also pass the Hard Knott Fort, which has been standing since 138AD. It was once known as one of the loneliest outposts in the Roman Empire, and if you get that far, it's certainly not hard to see why!
Whichever one you choose, you can be sure that they'll all make for amazing experiences for you to enjoy behind the wheel. And if you've got an old car you think won't quite make the journey, well, that's where we can help. We've made sure it's never been easier to scrap your car with us – all you have to do is enter in your car reg and postcode onto the fields in our homepage, and you'll have your very own instant scrap car quote. It's all go from there!