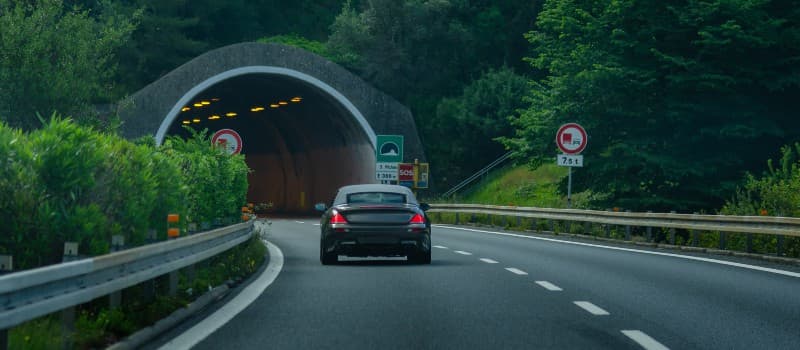 Could you get caught out while driving in Europe?
3rd Aug, 2022
If you're planing on a European excursion this summer, you may need brushing up on a few of the little known driving offences that could trip you up if you plan on driving. Some of the offences in question may seem harmless, but annoyingly, they all have the potential to leave you with a hefty fine.
Now, we like to make things easy for you here at Scrap Car Network – as you'll know if you've ever turned to us and said: help me scrap my car! Accordingly, we like to take some of the stress and hassle out of whatever else we can for you too. So with that in mind, here are some of the driving rules that might slip under your radar while you're driving through Europe this summer.
France
Beware your footwear! In France, drivers can find themselves on the receiving end of a £76 fine for driving in flip flops, because footwear like this can easily slip off and get caught under the pedals.
The French government consider this a danger to other road users, so section R412-6 of the "Code de la route" (the French version of the Highway Code) states that all drivers must constantly be in a condition to carry out manoeuvres conveniently and without delay, which includes ensuring that you wear appropriate footwear when driving. To illustrate this point, in 2015 a woman in Toulouse was fined €90 for wearing flip flops when driving because they were "not attached" to her feet.
As a side note, in France you can also be fined for eating food or applying make-up when at the wheel.
Spain
If you're somebody who requires corrective eye-wear when driving (glasses or contact lenses being the most common forms) then you are required to keep a spare set in the car when driving in Spain. Front passengers also cannot put their feet on the dashboard while in the vehicle is in motion, and being caught doing this could result in an £85 fine. Other potential driving offences in Spain include throwing a cigarette out of your vehicle, and being behind the wheel while wearing a cap or hat that covers the ears.
Cyprus
Understandably, in Cyprus if you're caught with your hands off the wheel when driving, you could be met with a fine. The law in Cyprus states that "raising your hand from the vehicle unnecessarily" is strictly enforced and there are many signs around the island warning drivers to keep their hands on the wheel. If you happen to be caught driving without your hands on the steering wheel, they will fine you you up to €25 (£21). That unfortunately means that you'll have to avoid dishing out any obscene hand gestures towards drivers causing you grief on the road, or risk being fined!
Germany
Moving over to Germany, if you happen to run out of fuel while driving down the autobahn, you could be hit with a fine of up to £60. Why? Well the German government sees this as being a preventable problem, as drivers are not allowed to stop when driving on the motorway, apart from in certain circumstances like if the car breaks down.
Keeping these laws in mind can help you avoid a run-in with the local authorities, and can minimise the chances of a collision. Unfortunately, they're not always guaranteed to completely prevent you from receiving a bump that could potentially write your car off. If you're unlucky enough to be on the receiving end of a bump like that, you might be in a position where you feel you need to scrap your car.
You can count on us to give you the best price for your scrap car – all you need to do is enter your car reg and postcode into the fields on our site, and we'll get you an instant online quote before you can say cash for cars. Why not see how much your car is worth?