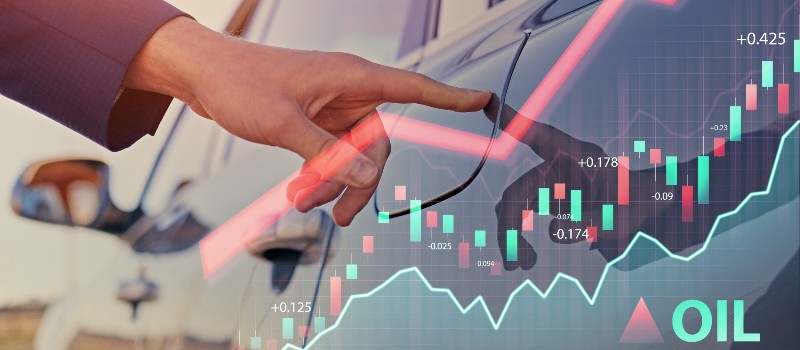 Could there be more 'go slow' protests in the UK?
15th Jul, 2022
Early July in 2022 has been… well, a pretty busy week for UK current events, to be honest, so while national fuel protests would normally have made a lot of front pages, they seem to have been pushed down the running order for many outlets in the past week or so. But they shouldn't be casually dismissed, especially as they're probably not going away.
Now, if you've recently acted on plans to scrap your car, or there's some other reason you're not driving, fuel prices might not be your top concern. But they certainly are for millions of people in Britain, and now many have decided the government clearly needs reminding. In the first few days July, tens of thousands of protesters took to motorways across Britain, driving in slow-moving convoys against record-high fuel prices.
These 'rolling roadblocks' caused mixed reactions amongst the public, as protests tend to do. Lots of motorists were understandably annoyed at the inconvenience (that is the point, after all), but there were also plenty of passing drivers who were sympathetic – there were even reports of some of these drivers joining the convoy once it was already in motion.
Unfortunately, there's been no clear response from the government on the issue recently, largely because it's been engulfed by turmoil with the resignation (but not departure) of Prime Minister Boris Johnson. So in the meantime, the main question that lots of people have right now is: are there more fuel protests possibly on the way?
What's been going on?
Let's kick off with a quick recap. In early July, tens of thousands of protesters, many driving vans and HGVs, launched a 'go-slow' protest across motorways in the West of England, South Wales, Scotland, Essex, Yorkshire and Lincolnshire. The rolling roadblocks generally kept to about 30mph, and in a few cases even more slowly than that, which caused traffic in those areas to slow to a crawl or grind to a complete halt.
It was organised through social media, chiefly under the banner of Stand Up to Fuel Prices. Those participating want the government to do more about the exponential rises in fuel prices recently, which have seen the average cost for a litre of petrol in the UK to rocket all the way up to 191.5p, and 199.0p for diesel.
All this is contributing to a major cost of living crisis, with households all over the UK feeling the squeeze. Notably, one of the things that have most irritated protesters is the fact that fuel prices have been steadily increasing for the last six months, even though the weekly wholesale costs have fallen in the past five weeks. There's now a suspicion that this is because forecourts are not passing on the reduction in prices.
What's been the response?
As we've touched on above, it's drawn a mixed response from the public, and many media reports on the movement seem to be equally polarised.
The Petrol Retailer's Association, which represents independent forecourts, has pointed to international events as a major cause of these prices rises. Russia's invasion of Ukraine has been an undeniable catalyst (the larger country is the world's second highest exporter of crude oil after Saudi Arabia). What's more, right now international currency conversion doesn't favour the point, which is also having an impact.
A statement from Number 10 Downing Street, on the other hand, slapped down the protests, citing the disruption they were causing.
A spokesman said: "While we respect the right to protest, people's day-to-day lives should not be disrupted, especially on busy motorways where lives are put at risk and resulting traffic delays will only add to fuel use.
"The new Public Order Bill will make it a criminal offence to glue yourself to a dangerous motorway, which sees police spending hours trying to safely remove people."
Now, the Public Order Bill in question is highly controversial, so while the police may take advantage of the new powers it gives them, there are doubts about how much help it'll really be in addressing the root problem.
What is the government doing now?
The Treasury announced back in March that it would cut fuel duty by 5p a litre, but even ministers admit that doesn't seem to have made much of a difference. A spokesman for FairFuelUK (which said it was not involved in the protests) has strongly suggested that the UK needs to follow other countries who've cut it by at least 20p, or there could be "a serious escalation of protests".
Reportedly, Rishi Sunak had been considering calls for a "more substantial" fuel duty tax. That was in early July though, and several days later – not to put too fine a point on it – he resigned and the government briefly collapsed.
In the meantime, it does indeed look like there are more protests on the horizon. Just a few days ago, there was disruption on the A12 in Essex, and there are rumblings that some protestors may even plan to block major motorway bridges. And with prices not looking like they'll start dropping anytime soon, it seems like a pretty safe bet that more grassroots action is on the way.
We'll keep you posted on that score! Until then, we'll stick to doing what we do best – getting you the very best price for your scrap car. We've made sure that the entire process couldn't be easier – just enter your car reg into our homepage to get a free, no obligation instant online quote. It only takes a few seconds. Curious to find out how much your car is worth?