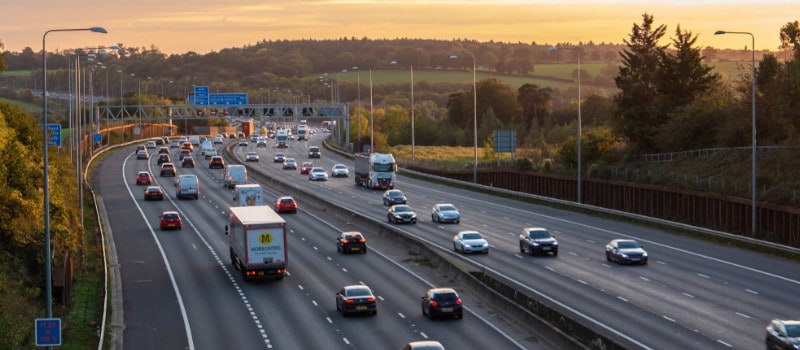 Are smart motorways unsafe?
11th Nov, 2019
Whether or not you realise it, there's a pretty good chance you've driven on a smart motorway. It's a rapidly expanding road network that's an increasingly common sight on British highways, and we've even written about the development of smart motorways right here at Scrap Car Network. An ongoing project of Highways England, the government-owned company tasked with improving Britain's roads, smart motorways are designed to make things faster and safer for motorists.
But while they certainly make things faster, there's a lot of contention over whether they're making things safer. In fact, many motorists fear that smart motorways make them more vulnerable to a collision that could scrap their car.
What is a smart motorway?
A smart motorway is a section of road that uses active traffic management techniques, including a mixture of automated systems and human CCTV operators, to increase capacity and improve traffic flow, especially at busy times. It does this partially through the use of variable speed limits, changing them up or down according to what's safest and most suitable for the number of road users travelling at the time.
Most controversially, most smart motorways turn the hard shoulder into an active lane of traffic, either intermittently or permanently. There are three basic types of smart motorway: ALR, Controlled, and Dynamic Hard Shoulder.
ALR – Short for All Lane Running. The hard shoulder has been converted into a fourth lane, closed to traffic only in the event of an incident. Instead of the hard shoulder, motorists in mechanical difficulty instead need to use specially designed Emergency Refuge Areas (ERAs) to take themselves off the road.
Controlled – This involves three or more lanes with variable speed limits, but still has a hard shoulder (which should still only be used in a genuine emergency).
Dynamic hard shoulder – This is the balanced option between the two previous ones, where the hard shoulder is used as a fourth lane only in particularly busy traffic.
According to the AA, though, cars which break down on smart motorways are in more danger than those who do it on traditional motorways.
Why do people think smart motorways are so dangerous?
Citing hazard log data from Highways England's own archives, the AA believes that smart motorways are around three times more hazardous. Lots of the controversy centres on the removal of the hard shoulder. Motorists who start experiencing problems are supposed to stop at the nearest ERA, which are never more than a mile and a half apart. So, you're probably already asking, what happens if you can't get to an ERA? Well, you need to get onto the verge if you can do so (and if it's not blocked by a safety barrier). If that's not possible, you might end up stuck in a live motorway lane, crossing your fingers that you're spotted by a CCTV operator, or automated Stationary Vehicle Detection (SVD) systems.

If you don't like the sound of that, you're not the only one! There are plenty of reasons you might not be spotted by an SVD. For starters, right now the system doesn't cover 100% of the motorway – in fact, it's only been rolled out to 18% of the total network. Critics have pointed out that even when they're active, the cameras might not always be pointed in the right direction to capture all breakdowns.
So, what can you expect when an SVD fails to spot you? The answer isn't reassuring – the average response time for a breakdown is about 17 minutes when an SVD isn't operational. There's even one case in which it took more than an hour. As you can imagine, this is making lots of people very uneasy, with the head of the AA being amongst the prominent industry figures to voice their concerns.
Smart motorways – by the numbers
A recent survey by Kwik Fit has found that almost a quarter of their respondents think that smart motorways are unsafe. They also found that most of their respondents treat these roads as if they're traditional motorways, avoiding the hard shoulder whether it's open to traffic or not.
42% understood that you can only drive on the hard shoulder when the signs say it's open to traffic
About 20% didn't know when the hard shoulder was in use
29% said they didn't know how to tell whether or not it was
13% thought the hard shoulder was permanently off limits
And how did motorists feel about driving on the hard shoulder?
25% were worried about colliding with a stopped vehicle
15% were worried about punctures or flying debris
15% were nervous about driving so close to the verge
Other surveys are equally damning, with the AA Populus survey of September 2018 reaching 15,152 people, and finding that 71% felt that ALR motorways are more dangerous than normal motorways, with 48% feeling 'strongly' this way. All in all, only 10% of the respondents to the AA said they felt safer on smart motorways.
A few months ago in March 2019, the RAC Foundation made similarly worrying findings, discovering that 23% of road users had accidentally (or even deliberately) driven on a closed lane on a smart motorway.
Highways England are maintaining, though, that smart motorways are safer than traditional motorways. What's more, they say that despite the incomplete rollout, the SVD systems offer valuable extra tools to help them spot incidents more quickly, and
have stated that casualty rates have been reduced by 25%. A significant cause of accidents in the past were due to vehicles running into the back of broken down cars on the hard shoulder, and officials state that ERAs are a safer alternative because they're enclosed and off the main highway, better shielding vulnerable cars from traffic.
However, there's evidence to suggest that smart motorways don't actually solve this issue. One family found themselves broken down in a live lane when there was no hard shoulder for them to pull onto, and had a lorry collide with them at 50mph. Thankfully, they all survived, but one recovery worker, Steve Godbold, was killed under similar conditions in September 2017. The government is becoming less and less convinced of their safety benefits, and smart motorways are now the subject of an official investigation.
Hopefully, when the time comes that you finally have to scrap your car, it's because of something like a failed MOT test, rather than a dramatic failure at 70mph. Whatever the case though, you can rely on Scrap Car Network to get you the very best price on your scrap car. All you need is an instant online quote, which you can get right here on the homepage of our site. It can be done in as little as 10 seconds – so why not find out how much your car is worth?