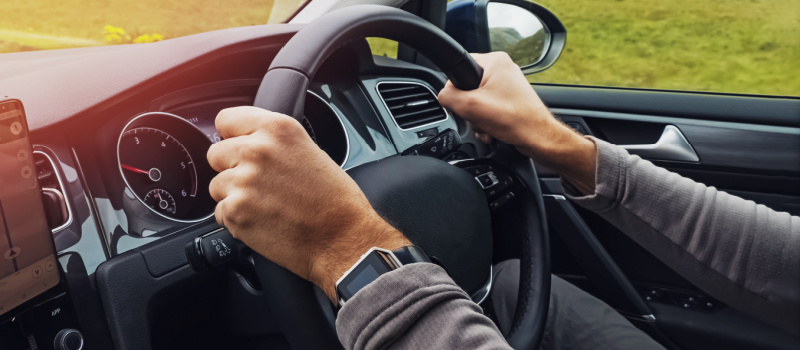 4 vital considerations for driving abroad
23rd Jun, 2023
Going away is an exciting time. But even if it's just travelling for work, if you choose to drive whilst you're abroad, it can pose some challenges you might not expect. If you're taking your car with you when you travel, or renting one when you get there, it's crucial to keep yourself up to speed on the rules of the road so you can avoid any unwanted hassle (like having to scrap your car abroad).
Wherever you go and whatever vehicle you end up driving, doing so for the first time can be an understandably daunting experience. But having all the relevant laws and documentation in order beforehand save you a lot of the associated stress and hassle, so everything can go off without a hitch.
So, to help you out here at Scrap Car Network, we've put together this general checklist of things it's worth keeping in mind when driving abroad.
Documents needed for driving abroad
Depending on whether you're travelling to Europe or even further afield, the documents you'll need to take with you will vary. Generally speaking, before you travel anywhere abroad with the intention of driving, the first step is always to familiarise yourself with said country's policies beforehand. You can do so on the gov.uk website here.
The AA states you need the following documents for driving in Europe:
• Your Certificate of Motor Insurance
• Your vehicle log book (V5C)
• A valid driver's license
Note: As of August 2021, an International Motor Insurance Card (Green Card) is no longer needed for travel in all European Union countries, plus Norway, Liechtenstein and Iceland. A Green Card is also not necessary for Andorra, Bosnia and Herzegovina, Serbia and Switzerland.
You will need all of the above plus the following things for driving outside of Europe:
• A valid passport
• Travel insurance documentation
• Your visa (if necessary)
• A copy of your DVLA driver record (and a license check code if necessary)
• Your Certificate of Motor Insurance (check with your provider if your travel destination comes with any insurance stipulations)
• An international driving permit (if necessary)
• Motor Insurance Card (Green Card)
International drink-driving limits
While British society at large takes a dim view of drink driving (and rightly so), it turns out that legally speaking, we're actually a lot more tolerant of it in general than one might expect. In fact, the UK (excluding Scotland) actually has some of the highest drink-drive limits in the world at 0.08%, resting 60% above the European average, and 33% above the worldwide average.
Many countries in Europe enforce a stricter drink-drive limit, such as France and Germany, where the limit is 0.05% – which is typically equal to a single beer or a small glass of wine. Some countries (such as the Czech Republic) have a zero tolerance policy on drink-driving, which means on-the-spot legal consequences for anyone found to have any alcohol in their blood. For that reason alone, it's worth taking the time to double-check the laws on drink driving at your destination. And if you don't have time, then let's be honest – the safest way is to not drink at all if you're planning on getting behind the wheel.
What you need to have in your vehicle
So, we've covered one of the main international laws to consider as it applies to drivers – but there are also several more relevant to what you actually carry on (and in) your car, too. As of September 2021, your car must carry a UK sticker instead of a GB sticker if your number plate has any of the following.
• A national flag of either England, Scotland or Wales
• The Euro symbol
• Letters and numbers with no flag or identifier
In many European countries, drivers are required to have a hi-vis jacket within the vehicle in case of emergency or breakdown. It's best practice to have enough to accommodate everyone within the car – especially if you're travelling within France.
It's also worth checking your tyre pressure and tread before you go. Most countries have the same minimum tread depth as here in the UK, but you won't want to risk wearing them down past the legal point whilst you're out of the country. If you're concerned this may happen, it's best to have them replaced beforehand.
And finally: although it's not compulsory, if you're taking your car overseas then it's wise to have it serviced by your local mechanic beforehand, so you can reduce the chances of having a breakdown or any other problems happening during your trip. They can be expensive hassles – especially when you're trying to enjoy your holiday!
General tips for driving abroad
As with anything in life, it's always best to be over-prepared rather than underprepared! Driving for the first time in a foreign country is bound to be at least a little nerve-wracking, and while everywhere is different, there are a few common cross-overs that apply to the majority of places, so we've listed those for you below:
• Adjust your headlights – If you're driving in Europe, you'll need to adjust your headlights for driving on the right side of the road so you don't dazzle fellow drivers. This is easily done with a headlight kit, which you can find online. Alternatively – again, you can ask your local mechanic
• Check breakdown cover – It's a good idea to double check whether your breakdown cover extends to the destination. It's stressful enough breaking down in your own country, let alone abroad when you are unfamiliar with the processes and language. It can cost you a lot of money if you don't have cover, and you don't want to be stuck wondering if it's best to scrap your car on your holiday.
• Be prepared for tolls – It's worth setting some extra funds aside for toll roads if you're travelling around by vehicle, especially in Europe.
As an overarching rule, always best to conduct thorough research into the specific country or region in which you are visiting so you can be 100% prepared for all scenarios. Preparation really is key when it comes to driving abroad!
Of course, you may decide before you go that your car isn't reliable enough to see you through a trip. So if that's the case, and you're considering scrapping your car and upgrading, you're in the right place! Here at Scrap Car Network, we're dedicated to providing you with a hassle free scrapping experience — and for the very best prices, too.
Get an instant online quote today! It's completely free, and there's zero obligation to proceed until you're ready. Just enter your car reg and postcode into the fields on our site, and within seconds you'll be looking at your very own instant online quote. Ready to find out how much your car is worth?